Sure, cocoa butter is great to satisfy your taste buds but the benefits it offers to your skin is something it is truly known for. Its wide range of perks can never fail to be a crucial part of your skincare routine. Read on to find out why.
Top 10 Cocoa Butter Benefits for Skin
Reduces Stretch Marks
Packed with Antioxidants 
Can Deeply Moisturize your Skin 
It heals sensitive skin
Boosting skin health
Rejuvenate your Skin 
Essential vitamins 
Improves Skin Texture 
Anti-Aging Properties
Helps Heal Skin Conditions
1. Reduces Stretch Marks
Many women believe that regular use of cocoa butter can have a huge impact on reducing your stretch marks. This is especially important if you are pregnant or on the journey to losing weight.
Although this may not be the ideal cure for stretch marks, it can play a big hand in improving the elasticity of your skin and reducing the chances of developing stretch marks in the first place.
Palmers have devoted a specific skin care line only for cocoa butter for stretch marks to make sure that you don't have to hassle around with different trial and error products.
Now, this is completely anecdotal but you can build the efficacy by staying consistent with your efforts and speed up the process of fading.
2. Packed with Antioxidants
Free radicals are the biggest culprit behind skin ageing and hyperpigmentation.
Here, antioxidants can help.
With this, you get to drive away free radicals and ensure to keep your skin healthy and glowing at all times. As cocoa butter is also anti-inflammatory, it also helps to endure a hectic lifestyle and reduce overall inflammation in your skin.
3. Can Deeply Moisturize your Skin
The magic of cocoa butter actually works by deeply moisturizing your skin from within and helps bring out the true beauty that lies under the lifeless layers of your face.
The butter is packed with fatty acids like oleic, stearic, and palmitic that go beyond the surface of your layer and improve the blood flow.
In fact, this is how it is able to treat stretch marks and hyperpigmentation. With this, you can expect to get more sustainable results that will slow down other signs of aging and dark spots.
4. It heals sensitive skin
As cocoa butter offers a mild treatment for all your skin problems, it can be an excellent choice for sensitive skin to heal irritations like eczema and dermatitis. However, there is no significant evidence proving this point.
5. Boosting skin health
This benefit opens doors to a wide range of other perks for amping up your skin health. As a general rule of thumb, dry skin and lack of elasticity are the root causes that lead to other skin issues.
The best part?
That's exactly what cocoa butter excels at.
The antioxidants called polyphenols are plant-derived chemicals that help cure damage using anti-inflammatory properties and sun damage.
However, one thing to bear in mind here is that the polyphenols are not exactly found in the butter but the cocoa bean as a whole. So it's safe to say that cocoa powder also contains the same number of perks.
6. Rejuvenate your Skin
Cocoa butter is the core ingredient that can work well to rejuvenate your skin and eliminate all the deal skills that you have on your face.
Cocoa butter is the core ingredient in beauty products that have been in use for over 3,000 years. These fats help to form a protective layer on the skin and ensure that no moisture leaves your skin.
However, just like with everything, the key here is to stay consistent. Here, it's best to stick to a routine that can blend well with your lifestyle. For example, applying it in the morning and right before you go to bed can help allocate specific timings to skincare.
7. Essential vitamins
Tired of carrying out a long skincare routine every day? Well, cocoa butter is armed with just the right vitamins to help eliminate the need to slather your skin in multiple lotions and treatments.
This includes Vitamin E and K, Iron, copper, and Magenicm to support healthy elastin and collagen levels for that ever needed supple skin.
Now, what does that do?
The benefits of irons roots form leafy greens that you eat every day. As for vitamin E and K, you can count on it to even tone your skin complexion and uplifts your appearance in no time. The rest is excellent for bringing back the baby-like bouncy skin that you lost a few years ago.
8. Improves Skin Texture and Scarring
Cocoa butter is a star, not a one-hit-wonder. With consistent use, you have the potential to cure damaged skin and let the nutritious properties of cocoa butter sink in deep to help heal scars and textured skin.
Unlike other scar treatments, cocoa butter is directly applied to the scar and skin to help replenish the damaged cells and improve the sight of them.
9. Anti-Aging Properties
Ever heard of collagen? This is a protein found in the skin that stays in the right quantities when your skin is young and loses its elasticity as soon as your skin ages. Cocoa butter helps to restore exactly that.
The best time to start applying cocoa butter to your skin is in your early 20s. This is because you get to maintain the natural levels of collagen for longer periods of time rather than replenish it back in your 40s that might take years to show your desired results.
Other than that, try to opt for 100% organic cocoa butter that will keep your skin away from the harmful chemicals that can do more harm than good.
10. Helps Heal Skin Conditions
Although I've touched on this topic before, it needed more emphasis to help you get a proper idea. If you are suffering from eczema, psoriasis, or dermatitis, cocoa butter can be your companion to help ease these conditions.
It works by eliminating the root cause of the problem and reducing symptoms like skin irritation, itching, and burning sensation that is making it hard to go through each day.
Not just that, it also helps to ensure that you prevent the chances of suffering from these skin conditions again.
The only condition?
You need to incorporate cocoa butter as a part of your life rather than only use it to treat specific skin conditions.
Using Cocoa Butter on your Skin: Pros and Cons
Now that you are aware of the fundamentals, this is still not enough to let you dive in mindlessly and apply it to your skin. Here are some of the pros and cons that you can potentially get from using cocoa butter frequently. 
Pros
1. Offers Intense Hydration
As you have already figured, cocoa butter is fantastic at nourishing your skin and bringing back the lost minerals effectively.
That's not even the best part, the moisturizing properties don't feel sticky or greasy to help you wear it as a morning cream on your face and body.
2. Suitable for Sensitive Skin
If you have sensitive skin, it can be a complete headache to get your hands on the right product. I know this because I've sensitive skin too.
Luckily, cocoa butter is extremely nonreactive and has the reputation of using its fats to only deliver moisture to your skin. These properties are non-irritating and ensure you get supple skin within just a few weeks.
3. Heals Sunburn
When you get a sunburn, inevitably you lose the natural moisture of your skin and get excruciating sensations. The best way to bring back the lost nourishment is to count on cocoa butter in selected areas and use it after a shower every day.
This way, your pores will be better equipped to absorb the moisture from cocoa butter and drive out impurities faster.
Cons
1. Can Cause Acne
If you have acne-prone skin, using cocoa butter is not really a good idea. This is because as this butter is comedogenic, the particles of the formula are packed together. As a result, it can clog your pores and let the bacteria build-up to cause acne. Here, opting for rather thinner butter or oils like shea butter or almond oil is surely a better option.
Using Cocoa Butter for Skin: What does Research say?
Sure, cocoa butter does feel and look nourishing to your body and possibly the solution to all your skin problems, but there is rarely any medical research proving that. However, research done in 2014 states cocoa butter carries the potential to treat skin conditions and offer full protection against premature aging.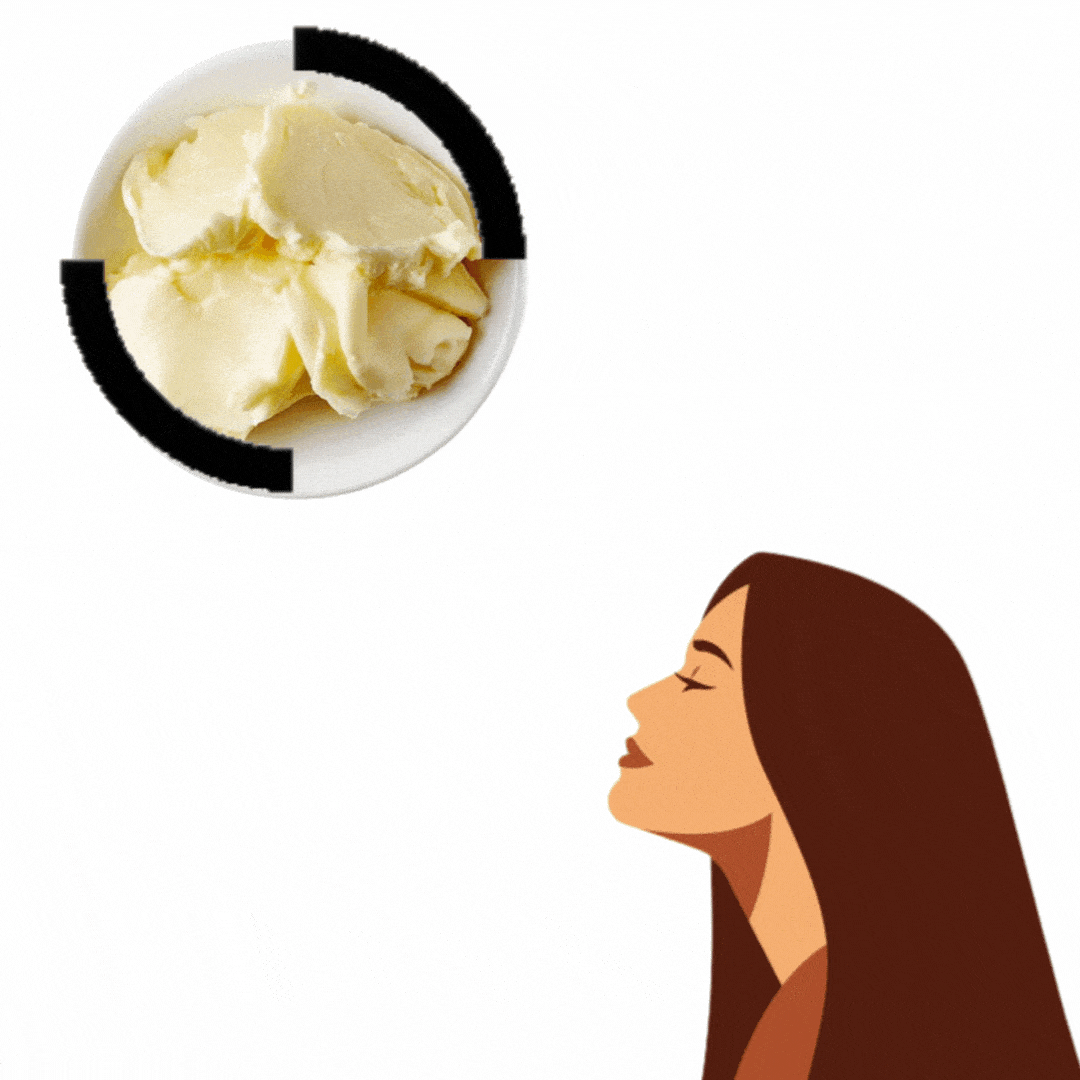 This fact helps to give you the peace of mind you need before putting something as controversial as cocoa butter.
Things to Know Before Using Cocoa Butter for Skin
Convinced to give cocoa butter a try? Here's what to consider before that.
A study conducted in 2015 suggests that cocoa butter products contain anti-estrogenic effects. These are female hormone-blocking effects that can make it difficult for the estrogen to perform in your body. Although it will not have an early effect, as your child grows older you can expect her to have anti-estrogenic drawbacks during adolescence's development during puberty.
Besides that, as it clogs your pores, it's best to avoid cocoa butter for acne-prone skin to ensure you never put your skin at risk.
How to Use Cocoa Butter on Skin
You will often see products packed with cocoa butter. The good news about these products is that they are edible, making it easier for you to apply on lips. However, most of them also come with additives that may not work the same way as cocoa butter does. Therefore, if you are specifically looking for puberty, either go for cocoa butter in the stick form or DIY one at home to personalise it according to your preference.
Now how you apply it to your skin depends on the amount of time and effort you are willing to devote to your skincare. Sure, simply rubbing a bar of unrefined cocoa butter can be an option, but it is always the best idea to create a specific treatment that can make sure of the full potential of cocoa butter.
What you need
¾ cup 100% organic cocoa butter (raw/unrefined)
¼ cup coconut oil
Airtight Jar
Double boiler
Step by step instruction
Before you get started with the treatment, it's crucial to get your hands on unrefined cocoa butter that is in its rawest form. The creamy yellow color is easy to find and has a strong chocolate smell. Most manufacturers prefer not to use this as it can overpower the fragrance of other ingredients they add.
Once you are all set with the cocoa butter, melt it using a double boiler to help you mix the rest of the ingredients
Add coconut butter
Freeze the mixture for around 20 minutes to help it get back to its original shape
Whip the butter thoroughly to blend coconut oil with the butter
Store in a jar and keep it away from direct sunlight
You can also add some of it to your regular lotions to shaving cream to offer smooth skincare sessions.
All in all, if you want to go the extra mile, you can feel free to create your own line of cocoa butter skincare products at home and use it according to your preference.
This helps to customize your remedies depending on your skin conditions and gain more control over your body.
Conclusion
Unless you are sensitive to the cacao plant, there is no harm in indulging yourself in a few cocoa butter products and avail yourself of its wide range of benefits.
But let's admit it, there is no magical formula to disappear your damaged skin in an instant. The product works by slowly building up the moisture, improving collagen and blood flow to help you get your desired results. 
But sitting idle and waiting for your skin to fix itself won't make the cut either.
This means you can stick to a cocoa butter product or DIY cream to soothe your skin consistently and wait to see visible results in a few months before opting for a different treatment for your delicate skin.
However, if you are currently struggling with severe skin conditions, it's best to consult your dermatologist or doctor who can guide you throughout your skincare regime and create personalized solutions that will perfectly suit your needs.