Cocoa butter is one of the most versatile natural materials that can do wonders for your skin. By simply applying cocoa butter on your face at night helps lock in the moisture and wake up with glowing and refreshed skin.
Why You Should Use Cocoa Butter on Your Face Before Bed?
Sure, cocoa can be the key to making your chocolate fudge cake, ice cream, and delicious desserts. However, unlike chocolate, cocoa butter won't make you gain weight.
The smooth texture and countless nutritious properties of cocoa butter have been in the beauty for over 3,000 years to bring you the beautiful skin that you deserve. 
Using cocoa butter on your face at night has proven to let your skin repair itself. It is rich in vitamins and fatty acids that are the main ingredients used in other high-end rejuvenating and repairing creams that you find in the market today.
Not just that, as cocoa butter is packed with Vitamin E, it is known for being a powerful antioxidant to make your skin smooth and bring back the youthful skin you had earlier.
The Vitamin K present is also an exceptional property for reducing dark circles, scars, and bruises. You can feel free to count on the essential fatty acids like oleic acid, arachidic and palmitic and palmitoleic acid to deeply work their magic and nourish your rough skin against harsh environmental conditions.
Who Should Apply Cocoa Butter on Face at Night
Just like with every other beauty product, if you aren't mindful about your skin and what the product can do to your face, it can actually do more harm than good.
This is one of the main reasons why dermatologists always suggest you consult doctors before diving headfirst into anything that is 'trending' or is working for others.
That said, if you are struggling with oil or acne-prone skin, cocoa butter may not be the best choice for you.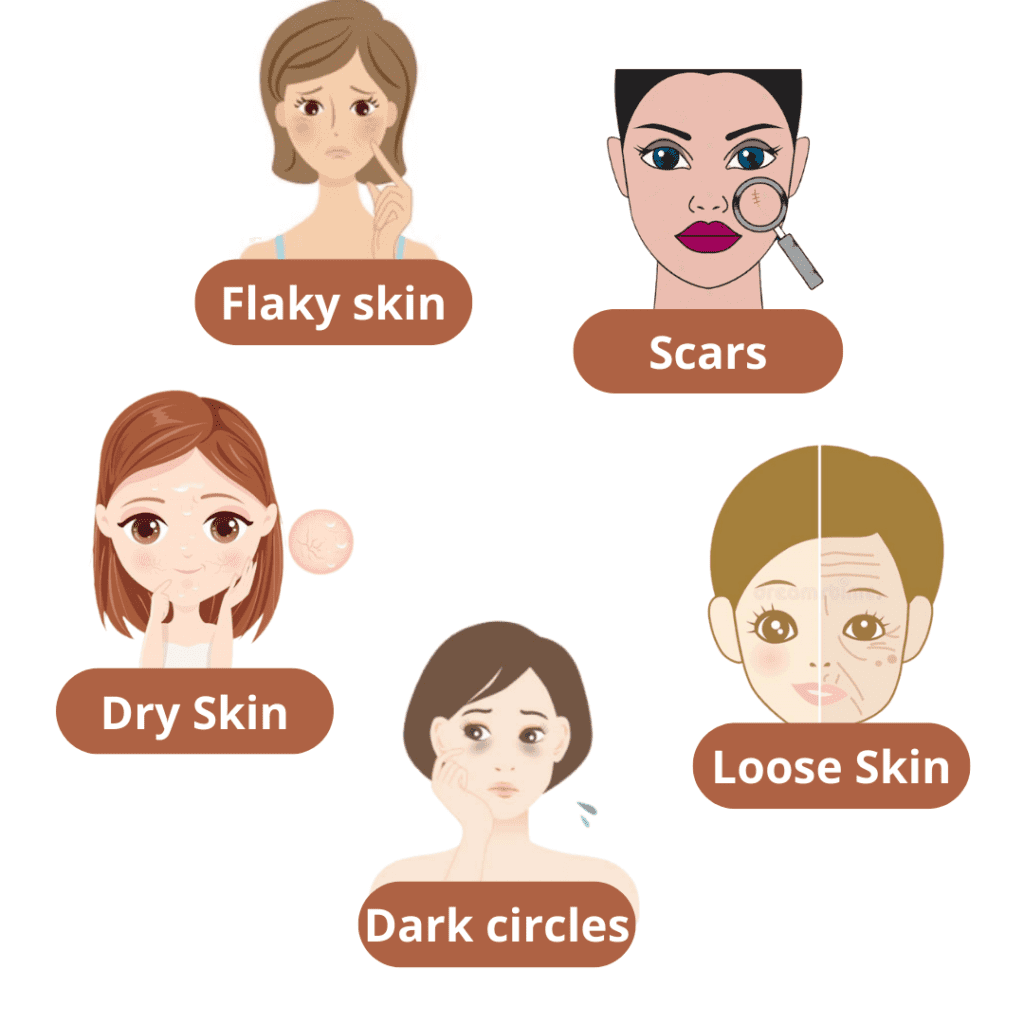 Why, I hear you ask?
This is because cocoa butter has a high comedogenic rating. This means considering how it has a thick layer, it can clog your pores and make it difficult for your skin to breathe.
This may be the recipe to build up all the gunk and cause you to break out immediately.
Sure, you can apply it as a make remover to help break down the waterproof makeup effectively and rinse it right after you are done but can't be used overnight or for other purposes.
Therefore, cocoa butter is best for people who are struggling with:
Dull skin
Scars
Hyperpigmentation
Stretch marks
Flaky skin
Dry skin
Dark circles
Mature or loose skin
Using Cocoa Butter on your Face: Pros and Cons
You can easily apple cocoa butter 1-3 times a day. Depending on how much effort you are willing to invest in your skin, you can decide how long or intense these skincare sessions can be. 
As a result, here are some of the pros and cons that you can expect to gain from applying cocoa butter to your skin once or multiple times per day.
Pros
1. Improves overall skin Elasticity
Over time, you run the risk of losing your skin elasticity through aging and harmful UV rays. This is usually the result of poor blood circulation and movement that can go against gravity and uplift your face.
Using cocoa butter can be one of the best ways to keep the blood moving and offer sun protection to maintain healthy-looking health at all times.
You can also try massaging it upwards to get the best results.
2. Natural Makeup remover
Since cocoa butter has an oily consistency once melted, you can count on it to effectively remove the stubborn waterproof makeup off your face.
The natural make-up remover will also ensure that you don't spend hours removing your makeup and help you to use that energy into actually taking care of your skin. Thicker cocoa butter may work well to remove matte lipstick and mascara.
3. Can help aid facial scars
Many doctors recommend staying consistent with your regular cocoa butter massage to help you remove scars that are even more than two years old.
Depending on your skincare routine, it's best that you apply it after you have thoroughly cleansed and exfoliated the specific areas. You can leave it overnight for the best results.
4. Boosting skin health
As a general rule of thumb, the main culprit behind dull and unhealthy skin is when you stop providing the minerals and nutrients that your skin lacks.
Thanks to the antioxidants like polyphenols in cocoa butter, you can rest assured to see incredible benefits of reduced inflammation and better UV protection to elevate your overall skin condition.
5. Moisturizing the skin
As we all know, cocoa butter is one effective fat that can act as a protective layer that you need to eliminate skin dryness and other skin diseases like eczema and psoriasis.
It does this by locking in the moisture in your skin and stopping your skin to lose its glow in the first place. However, there is no scientific evidence proving that.
Cons
1. May Cause Acne
If we look at the bigger picture, as cocoa butter is all-natural, it is safe for everyone. However, the thick consistency of the butter can cause acne for most people.
Other than that, some of the ingredients can also cause allergic reactions and irritate your skin.
Using Cocoa Butter on your Face at Night: What does Research say?
Although cocoa butter may seem like a great choice to give you a luxurious feel while you are treating your skin, there are no proven results that indicate how cocoa butter can work better than your placebo cream.
However, research that stands above the rest was done on the UV protection benefits of cocoa butter that has proven to do an excellent job at providing you with a thick layer of protection against the sun and eventually prevent premature aging.
One thing I can say for sure is its ingredients are surely backed up by scientific studies. This means the fatty acids present in cocoa butter are proven to provide the essential benefits to your skin and ensure to bring back the elasticity and youthful glow that you have been craving.
Other than that, according to studies conducted by Nutrients, Phytonutrients are known to reduce inflammation and oxidative stress signs on your face to not only give you a childlike sleep but also ensure you wake up with a better face texture as well.
Things to know before using cocoa butter for your face
Unlike cocoa powder, cocoa butter luckily doesn't contain any caffeine. This makes it safer than most of the other creams that you would try on your face.
However, if you are allergic to the cocoa plant, this will be the time when you seriously need to think before applying the butter to your face.
Cocoa butter is considered safe, so long as you're not allergic to the cocoa plant. Cocoa butter will not have any caffeine in it, either, unlike cocoa powder.
However, cocoa butter is known to clog pores. So use caution before applying cocoa butter to your face.
As mentioned earlier, if you suffer from acne-prone skin, it's best to avoid products that contain cocoa butter. This is because of the oil structure of cocoa butter that is highly comedogenic.
However, if you are still looking for oil-based products for your acne-prone skin, I would highly recommend you count on shea butter, olive oil, and apricot oil that aren't as thick and will not clog pores at all.
How to Use Cocoa Butter on your Face at Night
It is no hidden fact that cocoa butter is one of the main ingredients behind lotions and creams. As it is a great sun protectant, you are likely to see people mixing their sunscreen to chance its effectiveness.
Best of all, cocoa butter is also known to be added to your lip balms to help restore moisture and eliminate chapped lips. However, if you are going for cocoa butter from the market, there are solid chances that they won't be 100% pure.
Although moisturizers that come in stick form are relatively purer, if you are specifically looking to go the extra mile and ensure you get organic cocoa butter to add to your skincare regime, it's always best to grab raw cocoa butter and DIY it according to your liking.
Some do-it-yourselfers also like to mix in some coconut or vitamin E oil to make their own moisturizing shampoo, shaving lotion, and other beauty products to apply to your body. Here is one of the easiest ways you can use cocoa butter on your face at night.
What you need
Cocoa butter – ½ cup 
Hand mixer 
Jar for storage purposes 
Double boiler 
Sweet almond oil (or any other of your choice)- 2 tbsp
Step by step instruction
Considering how cocoa butter is hard at room temperature, you may need to begin the process by melting the right quantity of the butter. Here's how you can use these ingredients to make your DIY cocoa butter cream to use at night.
Melt cocoa butter with almond oil or oil for your choice (you can even use honey here) on a double boiler.
Once the cocoa butter has been completely melted, make sure to refrigerate it for 15 minutes until it's not piping hot.
Later, whip the cocoa butter using the hand mixer to help evenly distribute the oils.
Now transfer the coca butter n to a clean glass jar for storage. If you think the butter is still not cool enough, you can go ahead with another round in the Refrigerator to let it set well.
Store it in a cool, dry place to improve its longevity.
Once you are done with the initial making process, you can begin using it immediately on your face before sleeping to help work its magic all night long.
The ideal way of applying cocoa butter to your face is to massage it in an upward motion followed by a circular massage with your fingers.
Remember, your face must be washed and exfoliated before you try this. It's best to apply cocoa butter 2 to 3 times a day but it's not necessary to do the same with exfoliation as scrubbing your skin for too long can do more harm than good.
If you manage to stay consistent and incorporate it into your daily routine, get ready to see a more clear and more moisturized skin that can bring back the lost glow you once had on your face!
The best part? Depending on the properties of the natural beauty products, you can mix and match multiple oils and other items to bring out the best in cocoa butter and make sure you don't have to carry out multiple steps in your skincare routine every night.
Some of these mixtures include cocoa butter with sunflower oil, shea butter, Frankincense essential oil, Geranium essential oil, or Rose otto essential oil to help suit your skin.
Conclusion
Coming to the end of the guide, you are surely armed to get started with cocoa butter on your face. It is only the primary ingredient in most beauty products but you can also DIY it however you want to suit your needs. Here, you can easily purse cocoa butter in any drug store or online market that will get the product right at your doorsteps. 
However, one thing that dissuades people from trying cocoa butter is the lack of scientific research that supports these claims.
As for you, as long as you are comfortable with the properties of cocoa butter and are willing to make it a part of your life, there is no way you are going wrong with the wide range of benefits that cocoa provides to its users.
Thus, make sure you are aware of your skin condition and the nutrients present in cocoa butter to help you begin your journey towards your radiating skin.