There's no doubt cocoa butter has become one of the most patronized organic skincare products in the cosmetic industry. But do you also know that coconut butter is good for your skin too? That white puree from coconut meat has unique nutrients that you can make and use right from your home on your skin.
If you are wondering and torn between choosing cocoa butter or coconut butter as a better product for your skin, wonder no more. I will explain what each is made of so you can decide what's better for your skin.
Shall we?
Cocoa Butter vs Coconut Butter
Navitas Organics Cacao Butter
Kevala Organic Coconut Butter
What is cocoa butter
Cocoa butter, also known as cacao butter in its unrefined form, is the edible fat extracted from cocoa beans after the cocoa powder is extracted.
Cocoa butter is a form of healthy saturated fat that contains zero cholesterol. This fat is used in chocolate production, culinary, toiletries and pharmaceuticals.
Cocoa butter comes from a cocoa plant called theobroma cacao, a native of central and south America and cultivated in parts of west Africa. Cocoa butter is used in making chocolate and cosmetic products.
Cocoa butter in its raw state is extracted from cocoa beans and has a strong chocolate aroma although refined cocoa butter has a minimal aroma.
Unlike other butter, cocoa butter is solid in nature and melts below room temperature on low heat.
It is expensive due to its lifespan of between two to five years.
What is coconut butter?
Coconut butter is simply shredded or grounded coconut turned into creamy coconut butter using a high-powered blender, like Vitamix.
In other words, coconut butter is pureed coconut meat which includes any oil from the coconut. Like coconut oil, it is solid at room temperature but softens easily when heated. Its melting point is higher than coconut oil so it is a little harder to melt and keep liquid at room temperature.
Thus basically coconut butter = coconut meat + coconut oil.
Coconut butter is made from the whole coconut so it contains saturated fat, approximately 10 grams per tablespoon. It also has fiber; approximately 2 grams per tablespoon, which is absent in coconut oil.
Besides, it contains potassium, iron, magnesium and protein. It feels and smells similar to coconut oil, but it also tastes nicer.
Coconut butter burns easily and isn't your best bet for stovetop cooking over anything higher than very low heat for a brief time. It's perfect for making fudge and candies and may be substituted for butter or oil. Be aware that using coconut butter in any recipe will add a strong, sweet, coconut flavor.
Cocoa butter Vs coconut butter
| | | |
| --- | --- | --- |
| Properties | Cocoa butter | Coconut butter |
| Nutrients | According to Nourish, one tablespoon of cocoa butter containsCalories: 120Protein: 0 gramsFat: 14 gramsCarbohydrates: 0 gramsFiber: 0 gramsSugar: 0 gramsVitamin K31% DVVitamin E9% DV | According to Dr. Axe, a 33-gram serving of coconut butter contains about:186 calories7 grams' carbohydrates2 grams' protein18 grams' fat5 grams' fiber0.9 milligram iron (5 percent DV)0.6 milligram vitamin C (1 percent DV)10 milligrams calcium (1 percent DV) |
| Melting | Cocoa butter melts between 93-101°F (34-38°C) | The melting point of coconut butter is only 76° F (24° C). |
| Fatty acids | Cocoa butter mainly consists of Palmitic acid 25% acidsStearic acid (37%)Oleic acid (34%)with a low amount of linoleic acid (3%). | The higher content of coconut butterfat is lauric acid. |
| Texture | Firm, solid at room temperature and very smooth. | Coconut butter has a runny, drippy consistency when it's warm, and is very thick and firm when it's stored at a cooler temperature. It has a gritty texture. |
| Moisture | Contains vitamin E that moisturizes the skin and scalp. | Moisturizes the skin and hair with its nutrients. |
| Lifespan | Up to 2-5 years shelf life. | Up to one month on the shelf and 3 months if you choose to refrigerate. |
Benefits of using cocoa butter in your skincare products
1. Excellent source of moisture
The fats in cocoa butter provide an excellent source of moisture to your skin. These same fats contain palmitic, stearic and oleic acids that can also help replenish your skin stratum corneum lipids.
"Skin stratum corneum is made of brick; protein and mortar; lipid structure that serve as our skin's barrier to harmful radicals.
Daily use of cocoa butter will help moisturize, smooth, and soften rough and dark elbows, knees, hands and feet, especially for black or Africans. Regular use will also help to fade the darker skin on these areas, giving elbows and knees a more even skin tone.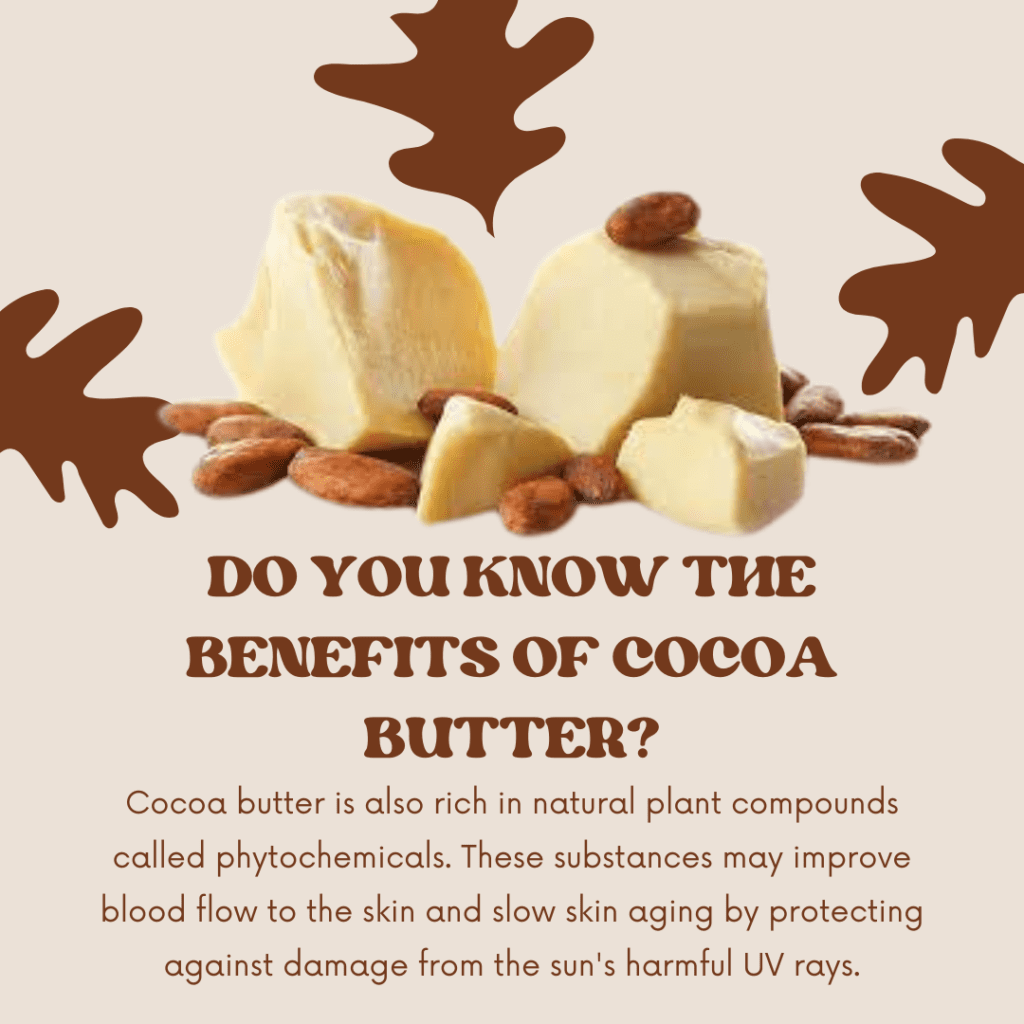 2. Skin healing properties
Cocoa butter is a primary component of many topical treatments for conditions like eczema and dermatitis caused by dry skin. The rich moisture content and protective oil-based nature of cocoa butter eases itching and allows the skin to heal after an outbreak.
People with dry skin problems can use raw cocoa butter because of the ease of absorption into the skin and firm texture, significantly improving the appearance of the skin.
3. Anti-aging nutrients
Additionally, cocoa butter contains cocoa mass polyphenol (CMP), and Vitamins that may help protect your skin from premature damage and aging. It may help promote the overall health of your skin.
4. Protects against sun
Exposure to Ultraviolet radiation can cause changes in skin texture, damage skin cells, and even increase the risk of skin cancer. The plant nutrients in cocoa butter may protect against skin damage from harmful UV rays and lower your risk of skin disease.
Benefits of using coconut butter in your skincare products
1. Contain lauric acids
Coconut butter contains saturated fat; the higher content of this fat is lauric acid. Lauric acid is a saturated fatty acid that has many properties of medium-chain fatty acids. It is known for lowering cholesterol levels and supporting weight loss.
After breast milk, the most amount of lauric acid is found in coconuts, so it is great for babies as well. Diseases like osteoporosis, type 2 diabetes, certain kinds of cancer, and stomach infections can be kept at bay with coconut butter. It also reduces joint inflammation.
It can help reduce wrinkles, moisturize dry skin and help with age spots
It's particularly moisturizing and can help protect your skin, especially dry and crumbly skin. It is also positioned to treat wrinkles, but the evidence is more present in using coconut oil. Since coconut butter is a combination of coconut oil, it's logical to conclude it treats wrinkles too. However, more research needs to be done to conclude this claim.
There are a lot of claims that there are coconut butter skin benefits for conditions like eczema and dermatitis, but the evidence is inconspicuous.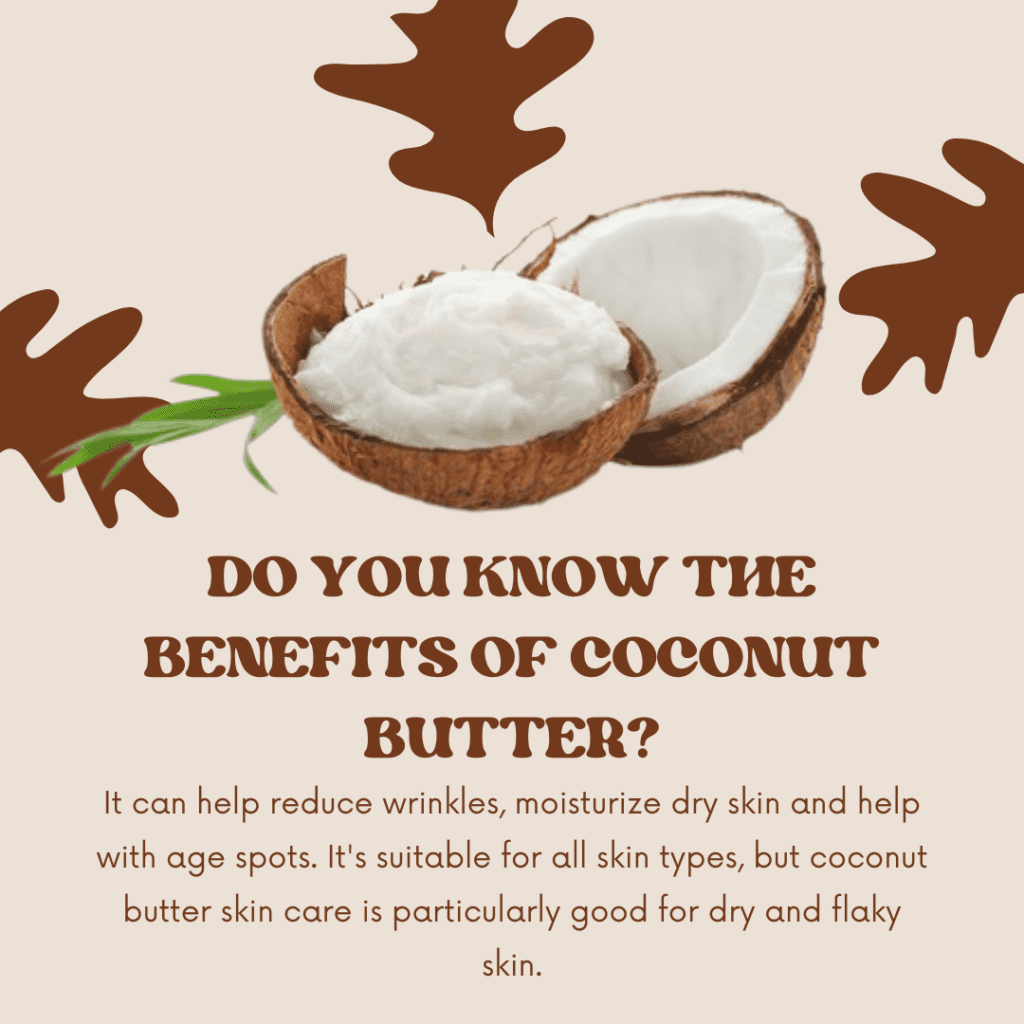 2. Shaving cream
Coconut butter can be used as an additional lather on shaving cream to prevent razor burns.
3. Softens Skin
As a bath oil, you can mix some coconut butter into bathwater. It'll soften the water as well as your skin.
4. Great moisturizer
Coconut Butter is great for moisturizing and protecting the skin. It promotes skin elasticity and fights free radical damage to help maintain a more youthful complexion. It is suitable for all skin types but is especially beneficial for dry, flaky skin, and skin conditions such as eczema, dermatitis and psoriasis.
5. Excellent for face and body scrub
You can combine brown sugar with coconut butter for a face exfoliant. Just add one tablespoon of brown sugar to two tablespoons of coconut butter and spread it on your face. Wash with cold water after 20 minutes.
Also, mix some sea salt with coconut butter for a skin scrub. It can be used on your body, especially your foot; giving it a soft, smooth appearance. You can also replace coconut butter as your massage oil for a soothing experience.
Which is better for your skin; the verdict!
Despite coconut butter with its numerous nutrients, it is most beneficial when consumed in the form of paste or for cooking. Thus coconut butter is healthy for overall health such as weight loss, boosting immunity, warding off viruses, helping prevent disease, providing a performance boost for athletes, containing beneficial fiber, giving hair a shine and providing iron.
While it also provides benefits to the skin when applied directly, its benefits are limited to cocoa butter.
So if you're looking to treat or moisturize your dry skin, prevent eczema, glow your skin and prevent aging, you're better off with cocoa butter. Cocoa butter is believed to prevent or remove stretch marks that can come with pregnancy or weight gain.
You might also opt for cocoa butter to fade away dark marks on the skin, including those spots that acne breakouts leave behind.
Combined Benefits
1. Good for dry skin
Both butter provide a great moisturizer for dry skin. You can rely on cocoa butter or coconut butter for your dry skin.
2. Soften skin
Cocoa butter and coconut butter are also excellent to soften and give your skin a youthful outlook. Be consistent in using either for maximum benefits.
3. Protection from the sun
They both have ultraviolet properties that protect you from the hot sun. Whichever you choose, be sure to observe the product that keeps your skin moisturized throughout your outdoor activities.
How to make coconut butter?
All you need are;
Coconut
Blender
Airtight jar
Place about 4.5 cups of coconut into your blender.
The blending time is about 15–20 minutes.
For best results, occasionally stop the machine and scrape down the sides to push the coconut into the mixture.
As you are making the coconut butter, it will initially have a finely shredded texture.
Eventually, it will start to get somewhat thin and grainy, becoming a smooth, thick liquid.
You may find that the final product seems runny, but when you try it, it will have more of a thick, sticky texture, similar to grainy nut butter.
Pour into an airtight jar and store at room temperature; either in the kitchen cabinet or cupboard.
How to use coconut butter
You can use coconut butter like virtually any nut butter, though its texture is a bit waxier than most nut butter and its flavor is unmistakably coconut. Consider these applications of coconut butter:
Spread: You can spread coconut butter on a piece of toast, a rice cracker, or even fruit. You can also add coconut butter to main dishes as a spread for baked sweet potatoes or sautéed greens.
Smoothies: Blend a dollop of coconut butter into a smoothie for added fiber and flavor.
Desserts: You can swap coconut butter for dairy products to make many baking recipes vegan. Use coconut butter in place of frosting for cupcakes, or make dairy-free fudge with coconut butter.
Body scrub: Mix with brown sugar for a face scrub or mix with sea salt for a body scrub.
Frequently Asked Questions (FAQs)
What is coconut butter used for?
Coconut butter is a spread made from the meat of the coconut much in the same way peanuts are used to make peanut butter. Just like peanut butter, it can be enjoyed with your favorite fruit, combined into smoothies, blended into coffee, or devoured by the spoonful straight from the jar.
Is coconut butter good for the face?
Coconut Butter is great for moisturizing and protecting the skin. It promotes skin elasticity and fights free radical damage to help maintain a more youthful complexion. It is suitable for all skin types but is especially beneficial for dry, flaky skin, and skin conditions such as eczema, dermatitis and psoriasis.
Is cocoa butter a good moisturizer?
Cocoa butter is a rich moisturizer; it's high in fatty acids and hydrates the skin deeply, making it a wonderful addition to body moisturizers and lip balms. It contains oleic, palmitic, and stearic acids, all of which nourish the skin.
Is cocoa butter and coconut butter the same?
Cocoa butter has a mildly sweet flavor and aroma that is reminiscent of chocolate; the scent is stronger than the taste. It is never eaten on its own but only used as an ingredient in recipes. The texture of coconut butter is like coconut oil and coconut butter combined.
How long does cocoa butter last?
Store the coconut butter in a sealed glass jar at room temperature for up to a month. Be sure to avoid adding any moisture to the jar for the best shelf life, and you can store it for up to 3 months in the fridge if you prefer.
Can cocoa butter treat eczema?
Many women believe cocoa butter creams and lotions can be used during and after pregnancy to prevent and minimize the appearance of stretch marks. Cocoa butter has also been promoted to heal rashes from conditions like eczema and dermatitis.
Is cocoa butter good for your wrinkles?
Cocoa butter for wrinkles is an excellent idea as the butter moisturizes the skin and slows down the rate of aging and leaves you with clear skin. If you have fine lines already, cocoa butter can help minimize their appearance. Moreover, cocoa butter reignites your skin's natural glow.
Key Takeaway
Cocoa butter and coconut butter are both great organic moisturizers for your skin. While coconut butter comes from the 'Tree of life" with its beneficial nutrients for your skin, it's also a great substitute for your spreads and cooking recipes.
Coconut butter is an excellent face or body scrub for your skin while cocoa butter will take care of your dry and aging skin.
On the other hand, cocoa butter is the perfect body butter to use on your wrinkles, stretch marks, dry skin and aging skin. It also provides moisture that protects you from ultraviolet rays.
Whichever you choose, be sure it's better for your skin needs.