Does Palmer's Cocoa Butter Make You Darker? Palmer's Cocoa Butter doesn't darken the skin. It rather maintains your natural skin color. The reason is simple. Palmer's Cocoa Butter was made mainly from pure cocoa butter, and hence it has no negative effects on the skin.
Cocoa butter is rather known for its moisturizing effect which evens out your skin tone. Unlike the skin darkening from severe sun exposure and the increase in melanin production, Cocoa Butter rather evens your skin tone and won't lighten or darken your skin.
In this article, I'd talk about everything Palmer's cocoa butter – the origin of cocoa butter, the kind of skins that can use it, and its benefit to the skin.
Let's start with what Palmer's Cocoa Butter is.
What is Palmer's Cocoa Butter?
Palmer's Cocoa Butter Formula is a concentrated cream made with pure cocoa butter.
It was first made by a family-owned business in the middle of the nineteenth century and has been under the current ownership since 1971.
Deep hydrating lotion: this 24 hour cocoa butter daily moisturizing body lotion features a light coc
Special formula: this lotion is made with cocoa butter to naturally moisturize and vitamin e to help
Finest ingredients: we strive to use only the finest natural, raw ingredients to bring you soft, hyd
Choose what's real: our beauty products and hair and skin treatments feature real high quality, plan
Palmer's skin care: our cocoa butter, coconut oil, shea butter, olive oil, and vitamin e product lin
This moisturizing cream is stiff and looks like margarine. It has been infused with vitamin E to add extra benefits to the skin. Even though it's solid and waxy, it melts easily when you rub it between your palms. This makes it easier to apply all over the skin.
Also Read: Palmer's Cocoa Butter Formula: Everything You Need to Know!
But where did natural cocoa butter come from?
Origin of cocoa butter
Cocoa butter is normally found in Southern and Central America, and in Africa, it is common in Ghana and Cote d'Ivoire. This natural butter is extracted from the seeds of the cacao plant.
First, the ripe cacao fruit is harvested and the seeds are removed. These seeds are then fermented for about three to four days and then dried. When the seeds are dried enough, the farmers roast the seeds to develop their "nutty" flavor and also make the hulls easy to remove.
The farmers remove the hulls with a special mechanism, and then the cocoa nibs are ground into cocoa paste also referred to as chocolate liquor. The liquor is pressed to separate the butter from the brown solid impurities.
It is from these impurities that chocolate and cocoa powder is produced. This also explains why cocoa butter has a strong chocolate smell.
With cocoa butter originating mainly from the tropical regions, it explains why cocoa butter is mostly attributed to black-skinned people. Now that you know where cocoa butter came from, let's see if Palmer's Cocoa Butter helps black skin in any way.
Also Read: What is Cocoa Butter: Benefits, Uses, Characteristics and Side Effects
Palmer's Cocoa Butter on Black Skin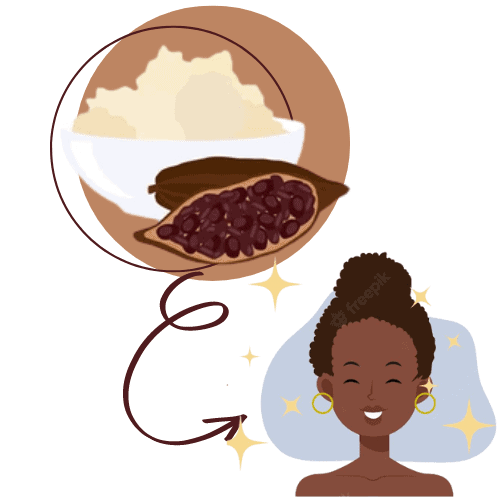 Black skin is known to be unique to other skin tones. It is delicate and wrinkles easily because the elastin in the skin is easily destroyed. For these reasons, some people are skeptical about using Palmer's Cocoa Butter on black skin.
I did a little research, and I'm sure my findings would help clarify your doubt. You'll find all that in this post. Let's head off to see how it affects African and African-American skin.
Also Read: 18 Best Cocoa Butter Lotion for Black Skin: For a Natural and Perfect Skin!
Is it Good for African skin?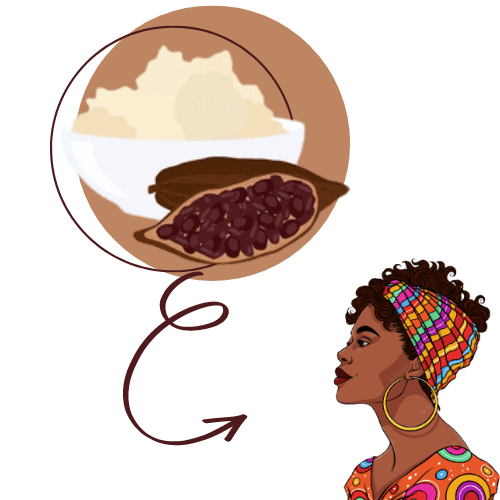 People have long assumed that cocoa butter is a moisturizer for black people. This is false because I know a lot of black people who don't use cocoa butter. It's just something that people say for nothing's sake.
However, black skin can derive a lot of benefits from using cocoa butter. One reason is that the black skin dries out easily.
To maintain the skin's glow and radiance, you need to use a moisturizer that can help lock moisture into the skin.
Palmer's Cocoa Butter was formulated for dry skin because it moisturizes the skin so well, making it soft and radiant.
Also Read: Does Nivea Nourishing Cocoa Darken The Skin?
Is it good for African-American Skin?
African American skin behaves like any other black skin.
It tends to become ashy when it's dry. Another characteristic is that the elastin in black skin loses easily. When the elastin in the skin becomes loose, the skin begins to sag, and then wrinkles follow.
This is one reason why cocoa butter is good for black skin. It helps the skin produce more collagen, thereby maintaining the skin's elasticity for a long time.
Black skin is black skin, whether African or African-American. If it's okay for one black skin type, it'll be suitable for the other. You might be wondering if you can use Palmer's Cocoa Butter too if you have white skin.
Also Read: Is Nivea Cocoa Butter Good For Dark Skin?
Palmer's Cocoa Butter on White skin
If you have white skin, you can use it too. Natural cocoa butter can be used by anyone, no matter the skin type or color.
Since Palmer's Cocoa Butter was produced mainly from pure natural cocoa butter, it shouldn't have any negative effect on your skin. There's an exception though. If you have allergic reactions to cocoa butter, then definitely you should stay away from Palmer's Cocoa Butter.
However, I saw a review recently on YouTube about someone complaining that Palmer's cocoa butter gives a slight tan. What about that?
Also Read: Does Palmers Cocoa Butter Lighten Skin? What I Wish I Knew!
Does Palmers Cocoa Butter Darken Skin?
The simple answer is no! People have indeed noticed their skin becoming tanner after using Palmer's Cocoa Butter. Yeah. It's not surprising! To understand why this is so, let's take a look at what makes your skin tan.
You would be tanner or lighter depending on the amount and type of melanin you have in your skin.
Melanin is simply a pigment that determines the color of your eyes, skin, and hair. Your melanin composition is mainly determined by genetic factors.
However, the ultraviolet rays from the sun also play a huge role in this regard. According to science, the more time you spend in the sun, the more melanin your skin would produce.
That's one of the reasons why staying in the sun for a long time makes your skin darker and causes hyperpigmentation.
Palmer's Cocoa Butter doesn't protect your skin from ultraviolet rays. So what do you think would happen if you used Palmer's Cocoa Butter on your skin and then you spent time in the sun?
That's why some people get a slight tan; they don't apply sunscreen on, and they spend too much time in the sun. Your skin would be fine if you avoided the sun as much as possible or you used sunscreen.
Let's see how it benefits the skin, whether black or white.
Also Read: Does Nivea Cocoa Butter Darken The Skin?
Benefits of Palmer's Cocoa Butter
Cocoa Butter in its natural form has been trusted to have a lot of benefits for the skin. But what about Palmer's Cocoa Butter?
Here are a few of such benefits;
Palmer's Cocoa Butter creates a protective barrier on the skin's surface, which helps to lock in moisture and protects the skin from too much direct sun exposure.
The fatty acids in Palmer's Cocoa Butter soften the skin and relieve rough and dry skin or spots.
When you apply it consistently for a long time, it would eventually smooth out marks and scars. Of course, it is written on the packaging that it helps get rid of stretch marks and scars. However, ardent users say it only improves their appearance, not eliminates them.
Its formula helps to hydrate dry skin for about 24 hours because it retains moisture a lot in the skin.
Has vitamin E which helps protect the skin from free radicals.
Its Your turn… 
Palmers Cocoa Butter is a great alternative to pure natural cocoa butter. Indeed, Palmers Cocoa Butter is in various forms. There are formulas for men, pregnant women, skin lotion, massage oil, just to name a few.
If you have dry skin, then you'll never go wrong with the original solid jar Palmers Cocoa Butter. And if you have oily skin, then you can go ahead and use the lotion.
The key is to know which one works better for your skin and then stick to it. If you have a specific skin problem, then please consult your dermatologist for treatment.