Cocoa butter isn't harmful to your health. The majority of fats, including animal fats, are not harmful to your health. The body uses fat to perform metabolic functions as part of a healthy diet. There are multiple problems associated with fats, including how much we eat, how we cook with them (smoking points), and which ones we eat.
The three fatty acids found in cocoa butter are oleic, stearic, and palmitic. It has been reported that palmitic increases cholesterol, oleic decreases it, and palmitic is neutral or only slightly increases cholesterol. In a way, the high level of antioxidants found in dark chocolate can negate any negative effects cocoa butter may have.
The benefits of cocoa butter for your body and skin are numerous. If there is any evidence to suggest that it is unhealthy, it is very small. You don't have to worry about it as long as you moderate your fat intake.
But what's cocoa butter?
What is Cocoa Butter?
Cocoa butter is healthy fat from cocoa beans. It has a chocolate smell and possesses so many benefits. Depending on where or how it is extracted, it has a yellowish or pale cream colour and is solid at room temperature.
It melts at 35-37 degrees Celsius. Cocoa butter is mostly used as a skin moisturiser globally, yet its health benefits are influencing its use in the kitchen as well as in the food processing industries.
Cocoa butter serves as a treatment for dry hair, working on African strands to make them easy to comb. As an expensive commodity, cocoa butter has a shelf life of two to five years.
Also Read: What is Cocoa Butter: Benefits, Uses, Characteristics and Side Effects
Is cocoa butter safe for the skin?
The skin does not react negatively to cocoa butter. Most people are unlikely to have any problems with pure cocoa butter since it contains no ingredients that can harm their health.
Pure cocoa butter can be consumed, but skin care products made of cocoa butter should not be consumed. The formulations of cocoa butter products may contain other ingredients that may irritate the skin, as with many skin care products. Make sure the label contains no potential irritants.
Also Read: Best Cocoa Butter For Skin: Great For All Skin Types!
Cocoa butter in lotion and cocoa butter in a food
Cocoa butter keeps your skin from losing moisture. In comparison to other oils and creams, cocoa butter absorbs effectively without leaving skin greasy and aids in skin elasticity and tone maintenance.
Many people believe that cocoa butter might help avoid stretch marks. Two different studies, one with 300 women and the second with 175 women who completed the study, showed that cocoa butter was no more efficient than other moisturisers in preventing stretch marks from appearing.
Cocoa plant extracts have been used to treat acne, psoriasis, skin cancer, and wounds. However, additional research is needed to determine how effective cocoa products are for skin health.
Fortunately for us, consuming cocoa provides many of these benefits, including those for the skin.
Also Read: Can you Eat Cocoa Butter? Uses, Health Benefits and Side Effects!
The benefits of eating cocoa
The cocoa plant contains a high concentration of anti-inflammatory and antioxidant compounds. Anti-cancer properties of phytonutrients have been researched. The study discovered that cocoa has more phytochemicals—the plant's active ingredient—than both tea and red wine.
According to a review of numerous studies, the phytochemicals in cocoa may help enhance blood flow in the skin and protect against UV damage. Both of these advantages can aid in the maintenance of healthy skin as well as the reduction of clear signs of ageing skin.
The Benefits of Cocoa Butter
Cocoa butter has numerous beneficial health advantages. Cocoa butter is beneficial to skin care because it contains fatty and amino acids, but it also increases the skin's water-holding capacity, moisturises the skin, and acts as a protective barrier. Let's look at some of the benefits of cocoa butter.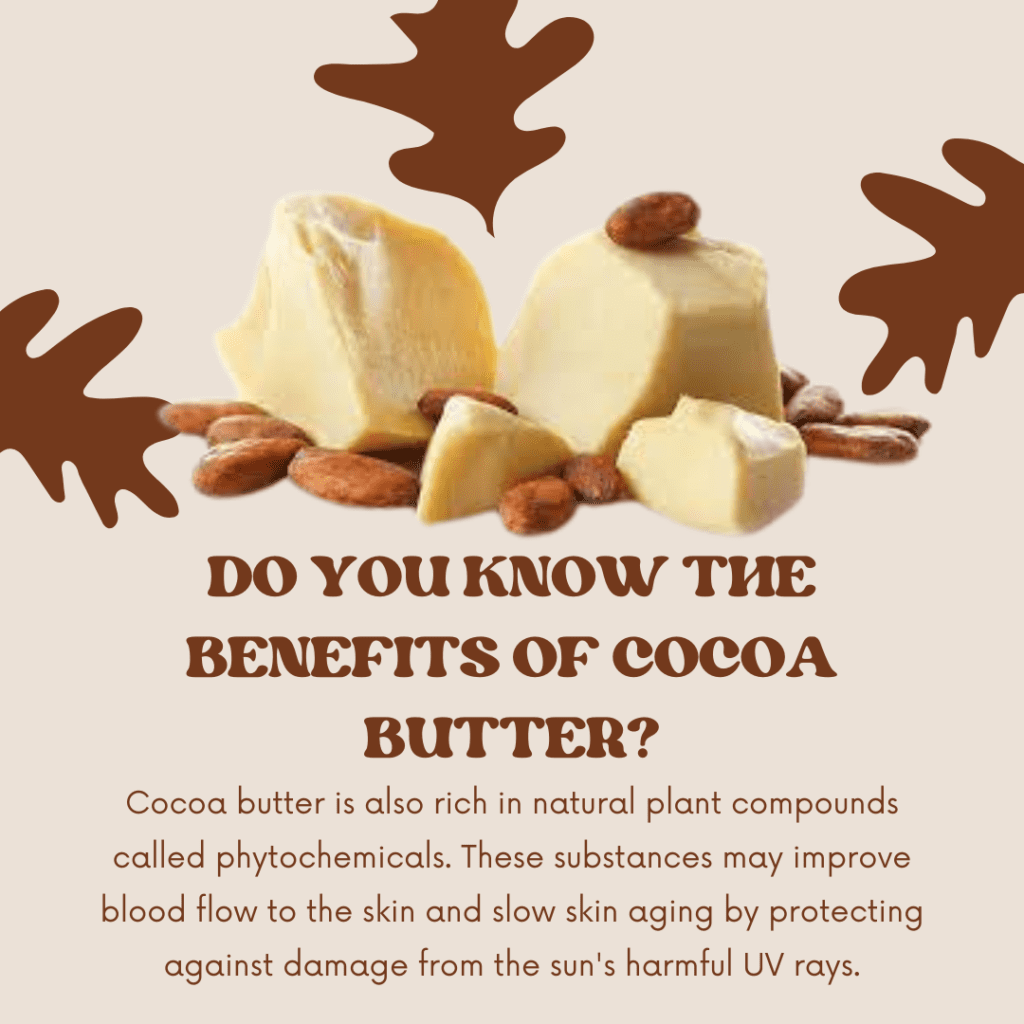 1. Skin hyperpigmentation
Cocoa butter lightens dark spots and smooths out skin flaws. Cocoa butter is also useful for decreasing skin hyperpigmentation caused by the sun, scars, and other circumstances. Cocoa butter also improves moisturization by balancing sebum and minimising sebum oxidation, resulting in fewer dark spots, blemishes, whiteheads, and blackheads.
2. It prevents stretch marks.
Cocoa butter includes anti-inflammatory properties as well as micronutrients that may help to repair existing stretch marks as well as prevent new ones from forming. Its ability to deeply moisturise skin may also aid in the treatment of stretch mark irritation. Cocoa butter fills in the gaps and lightens the tone of stretch marks by feeding the skin with essential micronutrients.
3. Moisturizes Skin
Cocoa butter is known for its ability to hydrate and nourish while also enhancing suppleness due to its high fatty acid content. Cocoa butter fat forms a protective barrier on the skin, trapping moisture. retaining moisture Cocoa butter soap contains stearic acid, myristic acid, palmitic acid, hydrochloric acid, arachidic acid, and other fatty acids that help to hydrate and nourish the skin.
4. Anti-Ageing properties
Cocoa butter is also rich in phytochemicals and the aforementioned natural plant compounds. As previously stated, these compounds can enhance blood flow and prevent skin ageing by shielding the skin from the sun's harmful UV rays. Cocoa butter also aids in the reduction of wrinkles and fine lines. Cocoa butter also acts as a barrier between the skin and the environment, encouraging new cell growth.
5. Reduces Inflammation and Irritation
For severe skin disorders such as psoriasis or eczema, cocoa butter is thought to be an excellent healer. Cocoa butter is inherently relaxing, so it will soothe your body and reduce itching and dryness. Cocoa butter's antimicrobial qualities help the skin fight infections and diseases. Regular application of this butter enhances skin suppleness and calms irritation.
6. Heals Damaged Skin
Cocoa butter is high in antioxidants, which help the skin repair itself from free radical damage. Free radicals can contribute to skin ageing, black patches, and a poor complexion. Free radicals can cause all of them. Cocoa butter is frequently used to smooth scars, wrinkles, and other skin imperfections. Cocoa Butter moisturises and heals damaged skin caused by a variety of reasons. It also acts as a sunscreen, protecting the skin from the sun's harmful UV rays.
Also Read: Top Cocoa Butter Benefits For Skin And Hair: A Comprehensive Guide!
Using cocoa butter for your face
It may be best to use cocoa butter on other areas of your skin other than your face.
Using cocoa butter may improve the general health and appearance of your facial skin. Moisture, suppleness, and UV protection are all desired characteristics for healthy-looking skin.
If you have oily or acne-prone skin, you should avoid applying cocoa butter on your face. This is due to the possibility of cocoa butter clogging your pores and creating outbreaks.
Because pure cocoa butter becomes oily when melted, it may be useful as a natural makeup remover. Thicker cocoa butter at room temperature may be effective on dry lips.
Also Read: Cocoa butter on Face at Night: Benefits and How to Guide!
Things to consider before using cocoa butter for your face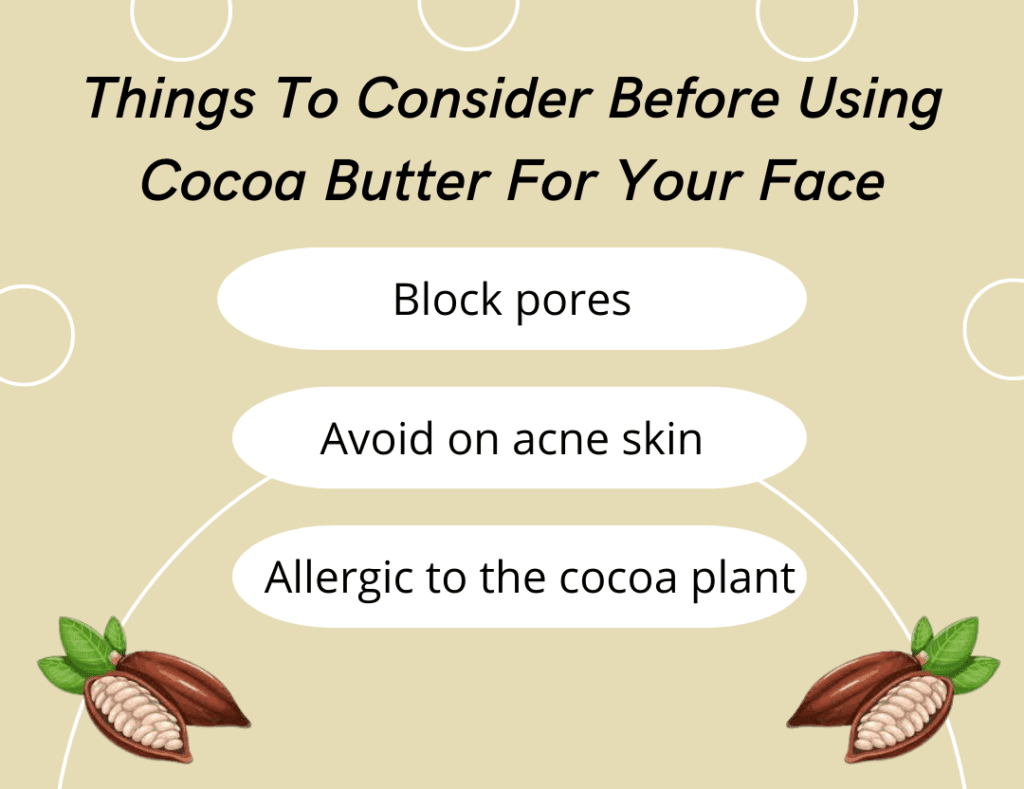 As long as you are not allergic to the cocoa plant, cocoa butter is deemed safe. Similarly to cocoa powder, cocoa butter has no caffeine.
Cocoa butter, on the other hand, is known to block pores. So proceed with caution while putting cocoa butter on your face. If you have acne or breakouts, you should avoid using any products that feature cocoa butter as one of the first seven components. You don't have to be as careful if cocoa butter is stated deep down the ingredient list, or if you're not concerned about acne.
Because the molecules in cocoa butter are packed so closely together, it is highly comedogenic and pore-clogging. Olive oil, almond oil, and apricot oil are examples of less comedogenic oils. Soybean, sunflower, or safflower oil will not clog pores.
Also Read: Best Cocoa Butter for Face You Can Trust! [Top 7 Picks]
What to look for when buying cocoa butter
Cocoa butter is found in many lotions, creams, and even hair and lip products. It might even be promoted as the main element. To find out how much cocoa butter is in a product, look at the label.
The location of cocoa butter in relation to other ingredients indicates how much is in a product. The ingredients are arranged from most prevalent to least prevalent. To reap the maximum advantages, look for goods that feature cocoa butter among the first few ingredients.
At room temperature, pure cocoa butter is hard. Tubs of it are available in health food stores. You'll need to warm the whole container in a double boiler or bowl of hot water before you can scoop it out or apply it to your face. It will become very soft and easy to spread as it warms up.
Best Raw Cocoa Butter Without Any Added Products
How does cocoa butter stack up against other moisturizers?
Cocoa butter provides a richer, thicker feel than many other moisturisers due to its high fat content. It is frequently likened to shea butter, which is made from the seeds of the shea tree, which grows in West and Central Africa.
Although shea butter does not smell as sweet as cocoa butter, it is abundant in fatty acids. Shea butter, unlike cocoa butter, contains vitamins that aid in skin restoration and healing.
How to use cocoa butter
Cocoa butter is a common ingredient in body lotions and creams. Because it is edible, it is also used as an ingredient in some lip balms. Sunscreen and vitamins are commonly added to cocoa butter products. As part of your daily skincare routine, you can use one of these cocoa butter products to your face or lips.
Many cocoa butter lotions and other products include merely a trace of cocoa butter, in addition to additional chemicals and additives. If you want it to be pure, get it in stick form, which includes 100% cocoa butter. If you're concerned about additives, you can manufacture your own products by melting a piece of whole, unprocessed cocoa butter in boiling water.
You can add your favourite essential oils like vitamin E, almond oil, or coconut oil to make your own DIY body butter.
Using cocoa butter has so many benefits.
Also Read: Cacao Butter vs Cocoa Butter: What the Difference and Uses?
Downsides of cocoa butter
The high polyphenol content of cocoa powder, rather than cocoa butter, is responsible for many of the health advantages associated to cocoa or chocolate consumption.
However, rising global demand for cocoa goods has put a pressure on cocoa butter production, resulting in a scarcity, higher manufacturing costs, and a more expensive cocoa product. Due to the scarcity, cocoa butter production has expanded to include cocoa butter equivalents from other plants in order to supply the enormous global demand for cocoa and chocolate.
Frequently Asked Questions (FAQs)
Is it healthy to eat cocoa butter?
Cocoa butter is a decent source of vitamin E, which benefits your body in many ways. Vitamin E supports vision, reproduction, and the health of your brain, skin, and blood. Cocoa butter contains a high percentage of fatty acids, which makes it well-suited as a primary ingredient in skin creams.
Is cocoa butter bad for cholesterol?
Chocolate contains cocoa butter, which is high in saturated fat, yet one-third of chocolate's fat comes from stearic acid. Although it's a saturated fat, stearic acid does not raise LDL cholesterol (the bad cholesterol) as do most other saturated fats.
Is cocoa butter toxic to humans?
Cocoa butter is considered safe to use on your skin. The makers of cocoa butter creams say it's safe to use during pregnancy. For people who are sensitive to cocoa butter or other ingredients found in cocoa butter products, it may cause a rash or other allergic reaction.
Is cocoa butter inflammatory?
Cocoa butter is also anti-inflammatory, which is another way it helps your skin resist the ravages of time. Research shows that its polyphenols have several positive indicators for skin health, including improved skin elasticity and skin tone, better collagen retention/production, and better hydration.
What is cocoa butter made of?
Cocoa butter is obtained from whole cocoa beans. For use in chocolate manufacturing, the beans are fermented before being dried. The beans are then roasted and separated from their hulls to produce cocoa nibs. About 54–58% of the cocoa nibs are cocoa butter.
Is there a difference between cacao butter and cocoa butter?
Cacao butter and cocoa butter are the same thing; the terms can be used interchangeably. They may also be referred to as theobroma oils.
Now it's your turn
Cocoa butter is safe to use on the skin and to consume. Pure cocoa butter has no components that are likely to cause difficulties for the majority of people. People can consume pure cocoa butter but not cocoa butter products intended for the skin.
Cocoa butter has a good amount of vitamin E, which is beneficial to your body in a variety of ways. Vitamin E helps with eyesight, reproduction, and brain, skin, and blood health. Cocoa butter is also high in fatty acids, making it an excellent choice as a key ingredient in skin cream.
To use cocoa butter for baking or cooking, make sure to use pure cocoa butter.