Any three-ingredient cake mix brownies are simply easy to make. Kids can even jump on this recipe because of the few ingredients used. As the article suggests, the brownies we are going to look at only use triple ingredients. So, if you're a sweet tooth, come along, and let's have a quick, yummy cake mix brownie recipe with you know how many ingredients.
What do you need to make 3 ingredient cake mix brownies?
The three ingredients needed to arrive at these brownies are:
Image
Product
Features
Price

BROWNIE MIX: Make delicious brownie treats with a chocolate syrup on top at any moments notice with the Supreme Original Brownie Mix
QUICK AND EASY: From the box to the oven in just five minutes! Perfect for parties or to make at a moment's notice by simply adding oil, water and eggs
ENDLESS OPTIONS: Add your own twist to these mixes by trying tested and trusted Betty Crocker recipes
HOMEMADE TASTE: The Red Spoon is my promise of great taste, quality, and convenience; This is a product you and your family will enjoy, I guarantee it - Betty Crocker
CONTAINS: 16 oz (Pack of 8)

Check Price

AUTHENTIC OIL | When a recipe calls for a high-heat cooking oil, Goya has you covered with GOYA Vegetable Oil.
CONVENIENT & VERSATILE | Great for sautéing, stir-frying, roasting, grilling, and deep-frying, Goya Vegetable Oil is 100% pure and made from all natural USA-grown soybeans. Goya Vegetable Oil is great for frying and can also be used in baking, for salad dressings and to make margarine. Stock Your Pantry With Goya Vegetable Oil for all of your cooking needs!
NUTRITIONAL QUALITIES | Low Fat, Low Saturated Fat, Cholesterol Free, Sodium Free
PREMIUM QUALITY | If it's Goya... it has to be good! | ¡Si es Goya... tiene que ser bueno!
PACK OF 6: 128 OZ BOTTLES | Multipacks available on Amazon Retail. Enjoy GOYA's full line of Oils on Amazon Fresh, Amazon Retail and Prime Pantry

Check Price
Cake mix – We will be using chocolate preferably.
Vegetable oil – This is fat used for the brownie recipe.
Eggs – Eggs are essential in making these cake mix brownies because they help to keep the mixture moist and tender.
Simple baking tools like a mixing bowl, rubber spatula, and the baking dish will be needed for this delicious dessert. And you're good to go.
How to make 3-ingredient cake mix brownies
Firstly, you need to preheat your oven to 350 F, spray your baking dish or pan with oil, line it with parchment paper, and gently set aside.
You will need a mixing bowl that you would transfer your chocolate cake mix, eggs, and oil into. Mix all those ingredients to combine.
You must then bake in your oven for 20-25 minutes.
Let your brownie sit for about 10 minutes before slicing it into desired sizes.
Tips and Variations for making 3 ingredient cake mix brownies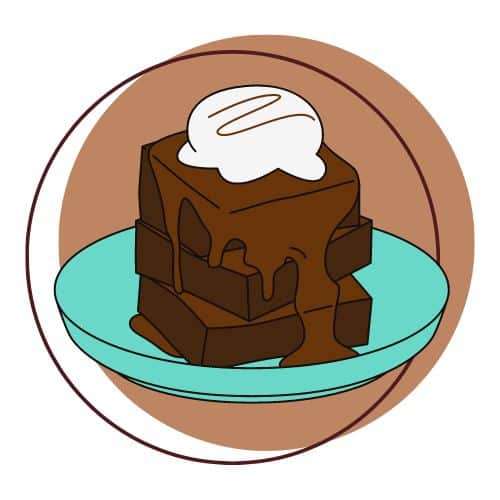 You can add chocolate chips, crumbled cookies, chopped nuts, or candies to your brownies depending on your taste bud. However, sticking to the three ingredients is absolutely fine.
One can actually use any cake mix of their choice ranging from red velvet, strawberry, vanilla, and yellow cake mix. They are all cake mix choices that equally work well.
Three-ingredient cake mix brownies can be stored for up to three days at room temperature in an airtight container. Brownies can be kept in the fridge also for up to seven days. In case you wish to freeze them, make sure to wrap them carefully in plastic, place them in an airtight container and freeze them for up to three good months.
Now it's your turn…
The three-ingredient cake mix is undoubtedly an interesting way of preparing a sumptuous brownie effortlessly. The baking pan, spatula, and mixing bowl tools used make its preparation even much simpler. Therefore, if you wish to combine just two eggs, vegetable oil, and cake mix to bake a brownie, just try this at home to make your weekend sweet and memorable.