Do you like your brownies with a chewy texture? You're not alone! A lot of people like their brownies to be chewy, but at the same time, they also want them to be soft and delectable. Good news is, you just need to add a secret ingredient to your regular cake mix to make delicious, chewy brownies without any extra effort.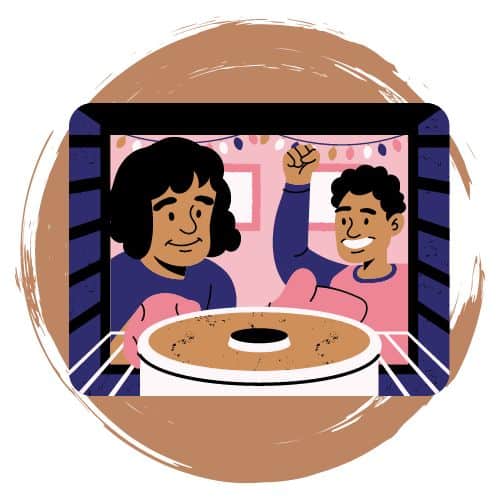 Although you can use any cake mix for this recipe, it is recommended to choose a brownie mix to further enhance the taste of your brownies.
If you want to know what that secret ingredient is, and how you can use cake mix to prepare your favorite brownies, keep reading on!
What is a Cake Mix?
A cake mix is a powdered mix that includes flour, baking powder, icing sugar, powdered milk, and other dry ingredients that usually go into a cake mixture. All you have to do is add eggs, butter, and milk to this mixture, give it a good mix, and bake it in the oven for a delicious cake ready in minutes.
A number of cake/baking mixes are available on the market, in different flavors and to make different types of cakes and cookies.
As a matter of fact, a range of brownie mixes are also available out there. These mixes are like regular chocolate cake mixes but do not contain any leavening agent.
Here is a list of ingredients you would normally find in a brownie mix;
Cocoa powder
Milk powder
Sodium bicarbonate (baking soda)
Partially hydrogenated vegetable oil
Salt & sugar
Vanilla flavor
Enriched flour
For today's chewy brownies recipe, we are going to use our regular brownie mix (traditional chocolate fudge) and add an extra ingredient to achieve our desired texture. So, keep reading on to find out what that secret ingredient is.
How to Make Chewy Brownies From Cake Mix?
And now the part for which you have been waiting for! Here are step-by-step instructions to make your very own chewy brownies by using a regular store-bought cake mix.
Step 1: Preparing the Cake Mix
You can buy any chocolate cake or brownie mix from the supermarket for this recipe. We used Italiano Cuisine Brownie Mix (519g) in Traditional Chocolate Fudge flavor for this post. Before we start mixing the other ingredients, pre-heat oven to 180 degrees C, and have a greased pan ready for baking the brownies.
Step 2: Adding Eggs, Water, and Butter
Take out brownie mix powder in a bowl and add 2 eggs, ¼ cup water, and ½ butter or vegetable oil to it. There is no need to add sugar at this point because regular cake mixes come with added sugar.
Step 3: Mixing the Batter
Mix the batter with a rubber spatula or even a regular spoon until all ingredients are well blended. No need to use an egg beater or any other fancy tool for this purpose.
Step 4: Adding the Secret Ingredient
And now it's time to add the secret ingredient that will impart that chewy texture to the brownies that we all love. Yes, you guessed it!
It's brown sugar.
All you have to do is add 3-4 tbsp of brown sugar to the mixture, mix it well, and the batter is ready to go in the oven!
Please note that brownie or cake mixes already have sugar added to them, so keep the amount of brown sugar limited, otherwise it will turn out to be too sweet.
You might be wondering how exactly does brown sugar impart a chewy texture to the brownies? Well, it's the molasses content of this secret ingredient that makes the brownies fudgier, softer, and chewier. A lot of people also use canola oil for the purpose, but brown sugar is even better because it also speeds up gluten formation.
Step 5: Baking the Mixture
The baking time depends on the size of the pan you are using. The smaller the pan, the more time the batter is going to take. If you have a large pan, bake for 30 minutes, a medium-sized pan is going to take around 40 minutes, and a small pan would require up to 55 minutes.
Tips and Variations
Using a cake mix to make your next batch of brownies is in itself a secret to soft, chewy brownies. However, here are a few extra tips to make the experience even more fulfilling for you.
Use olive or canola oil for an extra chewy texture.
Add vanilla extract if you normally don't use eggs in your brownie recipe and their smell might put you off.
You can also add chocolate chips for an extra twist to your brownies!
Top it off with a scoop of vanilla ice cream and chocolate syrup for a complete dessert.
Variations
Chewy brownies can be made from a wide range of cake and brownie mixes available on the market. You can try using dark chocolate fudge mix for perfectly moist brownies.
If you have a regular sponge cake mix at home, you will need to add cocoa powder as an extra ingredient in addition to brown sugar to make a batch of chewy brownies.
Conclusion
Cake mixes have recently become every baker's secret weapon as they use them to make delicious and crowd-favorite desserts within minutes. The good thing about these ready-made mixes is that they are available in a variety of flavors that cater to different taste preferences.
Whether you love a fudgy molten texture or crave a double chocolate and gluten-free mix, there is a cake mix for everyone. And the magic further unfolds when you use the same cake mix to make a tray full of chewy brownies. The result is a rich and decadent dessert that is guaranteed to satisfy any sweet tooth!
You can use a couple of extra ingredients to make your brownies chewier and softer. We used brown sugar for this recipe and the result was amazing.
So, grab those ingredients and get started right away! Don't forget to add the secret ingredient for that characteristic chewy texture we all love. We are sure your family members will be totally impressed with your culinary skills.