Does cocoa butter help with stretch marks? Cocoa butter is known to penetrate deep into the middle layer of your skin and helps rejuvenate our skin cells by massaging and nourishing them thoroughly. This ensures to soften stretch marks and can be an ideal way to prevent them during pregnancy and weight gain.
Almost every pregnant woman knows one or two about cocoa butter but stretch marks have more culprits than the new baby mama. Look, when you gain weight, your only choice is to lose some fats or die trying. There are no two ways about this truth.
Thank heavens you're on track to losing some weight. Welcome to stretch marks.
As if it's a reminder of your unplanned weight gain. No worries, all you need is to apply cocoa butter lotion before bed and the magic happens gradually. Not instant. For many, you may not see any changes if you're really self-conscious about your marks or scars but trust me – things are happening.
It will make your skin feel very soft, moisturized and the feeling will last for hours after applying. Without further ado, let dive into the relationship between cocoa butter the dreaded stretch marks.
Stretch Marks: Common Causes, Prevention & Treatment
Call it Stretch Marks, striae, or the good ol' Warrior stripes, these pesky marks can undoubtedly lure you into draining your self-confidence and make it harder to wear those mini shorts again.
However, you don't have to be stuck with them your whole life.
Where many people believe that pregnancy is the biggest culprit behind stretch marks, many other reasons lead to stretch marks on your body.
As a general rule of thumb, stretch marks occur when your skin stretches or shrinks too quickly. Here are some of the reasons why your skin stretches: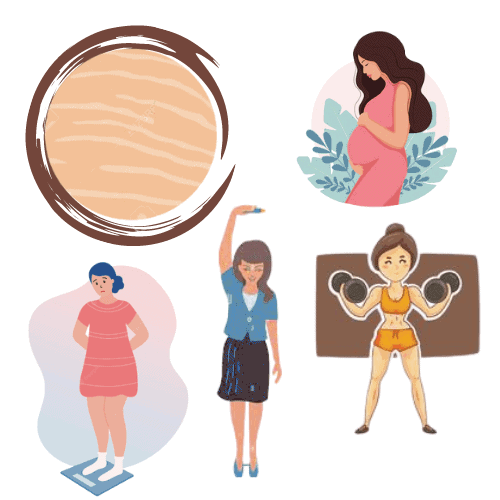 Genetics
Hormone
Pregnancy
Bodybuilding
Height growth
Quick weight gain
Although it is said that time is the best healer for stretch marks, there are many things you can do to speed up the process and get your body the love it deserves. One thing that stands above the rest is cocoa butter.
Whether it is online or offline, if you are into skincare, there is no way you haven't heard of the countless benefits cocoa butter has on your body and one of them happens to be for stretch marks. Even though there are medical treatments for instant cures like: 
Image
Product
Features
Price
Palmer's Cocoa Butter Formula Massage Lotion For Stretch Marks

Stretch Mark Lotion: This non-greasy deep moisturizing body lotion is ideal for all-over body use to improve skin elasticity texture and tone and is widely recommended for stretch marks during and after pregnancy or weight fluctuation
Natural Factors: This hydrating and hypoallergenic body lotion formula blends Pure Cocoa Butter and Shea Butter Argan Oil Collagen Elastin and Lutein to keep skin supple and moisturized for 48 hours allowing skin to stretch more easily; a pregnancy must-have!
Finest Ingredients: We strive to use only the finest natural raw ingredients to bring you soft hydrated and beautiful hair and skin; We support sustainable production of Shea and Cocoa Butter and Coconut Oil worldwide
Choose What's Real: Our beauty products and hair and skin care treatments feature real natural high-quality plant-based ingredients in formulas that really work to hydrate and soften from lip balm to bar soap to body butter

Check Price
Cicatricure Face & Body Scar Gel, Reduces the Appearance of Old & New Scars, Stretch Marks,

Face and Body Scar and Stretch Mark Treatment: This formula contains ingredients that help improve the texture and condition of scars and stretch marks while visibly hydrating and softening for healthier-looking, rejuvenated skin
Improves Texture and Appearance: This gel improves the appearance of keloid and hypertrophic scars and also helps to reduce the appearance of stretch marks from pregnancy and weight gain as well as scars from surgery, injuries, burns and acne
Discover a More Radiant Side: We offer a full line of products to brighten and cleanse your skin, even skin tone and reduce the appearance of wrinkles, as well as protect skin from harmful UV rays
Your Skin Deserves Something New: Our product line grows to take care of your skin and body with anti-wrinkle day and night creams, brightening creams, micellar water cleansers, lotions, sunscreens and more
Empower Your Beauty: We want the best for your skin at every age and stage of your life; That's why we're always innovating to create the best formulas with exclusive ingredients and leading technologies

Check Price
Chemical peels
Retin-A® retinol cream
Professional laser treatments
Cocoa butter is known for having a slow but healthy effect on your body. But is it what most people claim it to be?
Here are the top facts about Cocoa butter that can help you answer just that.
Facts about Cocoa Butter for Stretch Marks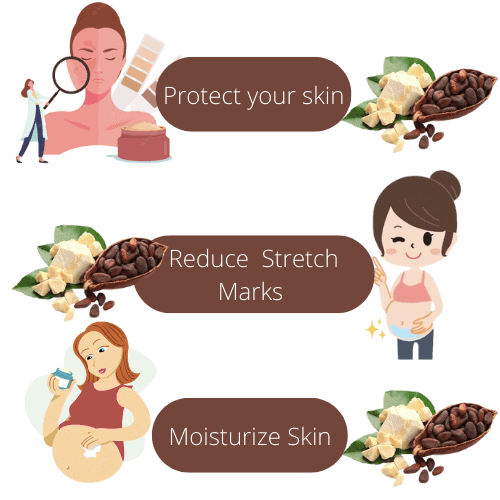 1. Cocoa Butter is filled with antioxidant properties
Free-radical damage can be the biggest culprit behind skin aging, stiffness, dark patches and overall poor condition of the skin. That's where antioxidants come in handy. Cocoa butter is armed with just the right amount of anti-inflammatory and antioxidant properties to help protect your skin from such harsh conditions and ensure to improve skin elasticity to prevent stretch marks.
2. Nourishes the skin to reduce the appearance of Stretch Marks
Many women over the years have been using cocoa butter to reduce the appearance of stretch marks by penetrating the deep epidermis of your skin. The application can take the form of any product ranging from lotions to balms that includes
This butter derived from cocoa nourishes your skin from within. That's not even the best part, unlike many other methods, cocoa butter is completely safe to use at any time of the day and any frequency, making it a convenient option to have with you at all times.
3. Moisturiser
Cocoa butter is high in fatty acids (healthy ones) to hydrate you deeply and can be the key to boost blood flow when you apply it to your body. Many people have been counting on cocoa butter to massage their problematic areas to not physically improve the appearance of their skin but its stimulating factor can yield unmatched results in the long term as well.
Myths about Cocoa Butter for Stretch Marks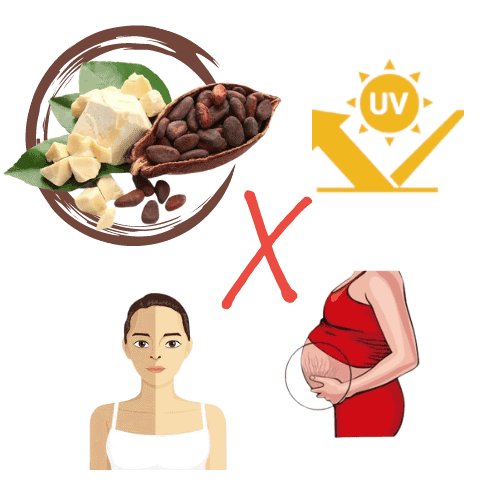 1. Using Cocoa Butter during pregnancy can stop stretch marks from happening
Sure, cocoa butter is a great moisturizer to improve skin elasticity but no natural remedy can affect women's genes and collagen to prevent stretch marks from occurring. Considering how women go through intense growth rapidly, it can be difficult to depend on cocoa butter to show immediate results.
However, if you haven't had stretch marks as of yet, it's best to gradually start enhancing your skin's elasticity and decrease your chances of getting stretch marks as you grow up.
2. It eliminates stretch marks using UV protection.
The thing about cocoa butter is, it works its magic through massaging your skin and building up that moisture to make your skin more tolerant to externalities and boosts up the process of any other skin treatment that you have been doing. Here, phytochemicals in cocoa butter can play a significant role in reducing the harmful damage UV rays have on your stretch marks and ensure it doesn't get worse over time.
3. You get instant results
Just like anything natural, you get to have slow but healthy and sustainable results. If you have a big day tomorrow, counting on cocoa butter won't surely cut. However, if you are looking for something to add to your skincare routine that can complement all the products you have been using on your skin, cocoa butter can help, which is a lot moisturized. Thus, getting results from cocoa butter is an ongoing process rather than something you would try for a few months.
How to Remove Stretch Marks With Cocoa Butter
Believe it or not, you have been using cocoa butter in your skincare routine almost every single day. Yes, you read that right. Cocoa butter makes a solid proportion of most of the beauty products today. And why wouldn't it? Its smooth, creamy texture is what makes such products glide smoothly over the surface of your skin and help enhance the effects of anything you put on your body. 
Besides that, cocoa butter is not only the epitome of the best skincare ingredient but can be great for nourishing your hair as well. It can instantly repair the damaged condition of your hair and perfectly stimulates the blood flow to get healthy growth. However, all of these benefits are only available if you use them the right way.
When it comes to the potent properties of Cocoa butter, one mistake and you wake up with a face full of acne. Therefore, it is essential to pay close attention to the application and how you can make the most out of your efforts.
Thus, take a decent amount of cocoa butter and warm it up in your hands. Then gently massage your skin in a circular motion, especially in areas with stretch marks to increase its blood circulation. Here, going for a quarter-sized amount is completely enough to get the right results.
If you want to go the extra mile, you can also wait for 10-15 minutes and firmly wrap the areas with stretch marks using gauze or cloth to help secure the moisture. Do this twice a day, preferably in the morning and before bed to help you stick to the routine.
The key here is to stay consistent with your efforts and try to incorporate other effective ingredients and speed up the results. Remember to be patient with stretch marks as it may take a while to start fading but the final results are surely worth waiting for!

Is Cocoa Butter Best for removing Stretch Marks?
It depends on your skin condition and how dark the stretch marks are. If we look at the bigger picture, it may be the "Best" method for removing stretch marks as it works by improving your overall skin condition rather than targeting a specific problem.
A test done on 175 women during the first pregnancy involved using cocoa butter on random females and using a placebo on others. By the end of pregnancy, researchers found no significant improvement in the reduction of stretch marks. However, if you decide to incorporate it into your daily routine, it can actually yield fantastic results in reducing stretch marks over your abdomen, thighs and breasts.
How often should you apply cocoa butter to Stretch Marks?
Cocoa butter is dense with hydrating fats that can gradually work in your favor. As mentioned earlier, the best way to use cocoa butter is to add it to your regular life rather than using it for only a time period.
Therefore, for best results, massage it thoroughly on your skin 2 to 3 times a day and firmly on the stretch marks to reduce its appearance. In the span of a few months, you will eventually start to see your stretch marks slowly fading and making your body appear shinier than ever!
The key here is to stick to a skincare routine that will help you be committed to applying cocoa butter every day and increase its chances of showing more noticeable results.
Is Palmer's cocoa butter lotion good for Stretch Marks?
Deep hydrating lotion: this 24 hour cocoa butter daily moisturizing body lotion features a light coc
Special formula: this lotion is made with cocoa butter to naturally moisturize and vitamin e to help
Finest ingredients: we strive to use only the finest natural, raw ingredients to bring you soft, hyd
Choose what's real: our beauty products and hair and skin treatments feature real high quality, plan
Palmer's skin care: our cocoa butter, coconut oil, shea butter, olive oil, and vitamin e product lin
There is no way you are into cocoa butter and have never heard of Palmer's cocoa butter lotion. The brand is just everywhere! It is known to not only improve the elasticity of your skin but can also be your companion during weight fluctuations (trust me, we all go through that).
This means even if your skin stretches, it won't have a big impact on skin. The lotion keeps your skin moisturized for up to 4 hours, eliminating the hectic work of wrapping your skin with a cloth and is free from many mineral oils and parabens, which can make you allergic to cocoa butter.
As for its effectiveness, it can be the best cocoa butter product you can buy there. However, just like the organic cocoa butter itself, it won't yield magical results instantly. This is one of the many reasons why many fail to see solid results in the first few days of use.
Does Vaseline cocoa butter remove stretch marks?
Who hasn't heard of Vaseline, right? Since childhood, it has always been our knight in shining armor to aid any skin problem you may have. But can it work the same with stretch marks? Glad you asked that. 
Just like cocoa butter, Vaseline can treat your skin using its moisturizing properties. It's best to apply  Vaseline right after warm showers when your pores are wide open and more active to absorb anything you put on your skin. If you think that's just me raving about Vaseline, wait till you find out what a study in 2013 indicated regarding the use of Vaseline for stretch marks. 
It showed that Vaseline could indeed be a great way to keep your wound or stretch marks hydrated to not only speed up the healing process but can also prevent your skin condition from getting worse. A little secret here, this fact applies to most of the skin issues you face.
How long does cocoa butter take to remove scars?
With consistency, you can expect to get results within the first two to three weeks of use. However, it may take up some solid months to see visible results of stretch marks fading away on your skin. However, by adding it into your life you also amp up your skin's health and prevent stretch marks from occurring again.
Does cocoa butter help with stretch marks during pregnancy?
It depends on what kind of cocoa butter you are using. If you are going for organic or homemade cocoa butter, you can rest assured to reduce the effects pregnancy has on your body. However, if you are betting on beauty products containing cocoa butter, you may have to be extra careful as it might also include a few other ingredients that can do more harm than good.
Best cream for old stretch marks
Where Palmer's can be an exceptional solution for your stretch marks, if you are looking for fast results, you can never go wrong with Body Merry Stretch Marks & Scars Defense Cream as the organic formula mixed with antioxidant-rich green tea and jojoba oil are all recommended ingredients for stretch marks. 
Many users of the cream started noticing visible results within the first 2 weeks of use. However, one thing to keep in mind: its pungent smell and thick consistency may not be suitable for everyone to wear during the day.
Is shea butter good for stretch marks?
Here comes the most common question of everyone who recently got into the world of cocoa butter. Where you see many beauty gurus raving about cocoa butter, there is also decent popularity that can stop singing songs about how shea butter has changed their lives. But is it suitable for stretch marks? 
Shea butter has a slightly different approach than your regular cocoa butter. Where cocoa butter stays on your skin for hours or sometimes days, it can be an excellent choice for moisturizing your skin. However, this may clog pores around more sensitive areas like your face.
This is where Shea butter takes the lead.
It doesn't stick on your skin which makes it ideal for acne-prone skin and may significantly diminish your stretch marks if used a few times a day.
Conclusion
Coming to the end of the guide, the most important takeaway I want to have from this guide is the fundamental concept of Cocoa butter because everything else revolves around that. All of its perks reside in its ability to break down the dry, thick layer of skin to moisturize it.
The rest ensures that you keep a healthy blood flow around your body and gradually amp up the overall health of your skin instead of specifically triggering a single problem. So make sure you are entirely aware of your skin before diving headfirst into applying cocoa butter to your body.
Good luck!