How long does it take for Cocoa butter to even out your skin tone? When used right, you expect to see a visible result in about two weeks of use.
When it comes to giving back to your delicate skin, simply washing and exfoliating your skin isn't enough. Good cocoa butter can go hand in hand with ensuring your skin is getting everything it needs to bring back its moisture and even skin tone in the healthiest way possible.
However, this brings us to a new set of questions. Here's a complete guide on how you can use it right to help you get the maximum results.
What is Cocoa Butter?
Cocoa butter, in general, is a plant-based fat that is extracted from the cocoa bean. To harness this, the beans are taken out of the cacao plant, roasted, stripped, and pressed to separate cocoa butter (the fat) from cocoa powder to make it what it is today. Nowadays, you get to see this rich moisturizer in processed creams or sold individually to apply directly to your skin.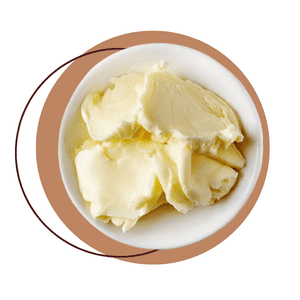 It is common to the fact that we have been unintentionally using it for over 3000 years. Whether it is lip balms, moisturizers, or makeup it can make sure to add the ever needed nutrition to any product you may like. As for the DIYers, cocoa cream gives them the freedom to mix it with anything and create their own natural beauty secret that will put people in awe.
The Origin of Cocoa Butter
As mentioned earlier, Cocoa butter has been sworn by many beauty enthusiasts for over 3000 years. Now, more than half of the world's cocoa butter is produced in West Africa than anywhere around the world. But you can still see slight traces of its production in Central and South America and in the Caribbean.
The butter is an emollient with a mild chocolate aroma and has been widely known for its moisturizing and body-lightening properties. Not just that, these properties can lead to healing and protecting skin and hair without making you break your bank for it.
It also acts as a shield to prevent you from the effects of external pollutants, sun, and wind to yield ever glowing, young skin. A little-known fact about cocoa beans is that before it was used for beautification, the unique qualities of the cacao beans were used to pay taxes or as Aztecs like to call it "Tribute" to make it a form of currency.
Just like how beans can be extracted in a natural way as the use of cocoa butter increases, you get to see more and more companies trying their hand at boosting up the production methods to ensure you get the right amount in the best way possible.
This means it can also be cold-processed, which is obtained in a factory by pressing the whole bean. The heat from the friction can keep the antioxidants present in the cacao plant to release vegetable fat faster.  
Also Read: Does Chocolate Come From Cocoa Beans? A Complete Guide!
Cocoa Butter: Common Causes & Benefits
Now that you are aware of the basics of cocoa butter, it's time we dive deep down and find out why it is a well-known product today.
You can apply cocoa butter once or twice a day, depending on your skin condition and skin type to improve the overall health of the skin. However, its perks don't end here. Considering how cocoa butter is high in natural fatty acids, it actually provides a wide range of other benefits as well.
Here are some of the common benefits that you can expect cocoa butter to yield:
1. Effectively Removes Makeup
Since pure cocoa cutter turns oily once melted, you can use it to break down the stubborn waterproof makeup off your face. Simply warm it up in your fingers, put it all over your face, let it rest for 30 seconds, and start massaging it properly to get rid of the makeup.
Repeat if necessary. You can also go ahead and use its oily formula to massage and sculpt your face. Thicker cocoa butter can also work well on dry lips and give the ever needed soft, plump lips.
Once you are done with removing your makeup it can leave a nice and hydrating feel to eliminate the need for applying your nighttime moisturizer.
Also Read: Is Cocoa Butter Bad for Your Face: What I Wish I Knew!
2. Youthful Skin
Cocoa butter is a great way to add antioxidants to your skin to prevent signs of early aging. Some of these antioxidants include omega 6,9, dopamine, and zinc to restore its original elasticity and bring the liveliness back on your face. 
Also Read: Best Cocoa Butter For Skin: Great For All Skin Types!
3. Better Shaving Experience 
Shaving can leave your skin bumpy with arms and legs filled with ingrown hair, with cocoa butter it's not even a question anymore! It can easily replace your soap or shower gel and help to make your shaving experience a lot more enjoyable and lets you come out of the shower with a well-moisturized body. 
Also Read: Palmers Men's Cocoa Butter Reviewed + Alternatives
4. Manage and Nourishes Hair 
Cocoa butter isn't just the right solution for your skin but for your hair as well. It can tap into the right fibers to boost nutrition and provide beautiful hair. Now, whether your goal is to add more volume, moisture, strengthen or simply make them look more put together you can never go wrong with a good quality organic cocoa butter to give irresistibly gorgeous and shiny hair. 
Also Read: Top Cocoa Butter Benefits For Hair: A Quick Guide!
Facts about whether Cocoa Butter Evens Out Skin Tone
When it comes to your skin, nothing should ever be compromised. Here are some of the facts that prove whether cocoa butter evens out skin tone.
1. Cocoa butter Can Smoothen Dark Elbows and Knees
Due to the high pressure in your knees and elbows, they tend to be a lot darker than the rest of your body.
Daily use of cocoa butter will not only moisturize your skin but can help blend your skin color well with the rest of your body color. This means you don't have to ignore these areas anymore. Simply massaging them in the morning and right before you sleep can show a drastic change in your appearance. 
Cocoa Butter vs Shea Butter: Which Is Better for Your Skin?
2. Cocoa Butter Can Aid Hyperpigmentation
Hyperpigmentation (darker skin) can occur for a number of reasons. Whether it is due to sun, insect bites, infections or any other reason, melanin (property responsible for adding pigment to the skin) tends to overproduce and make you look dull overall.
Here, you can surely count on cocoa butter to bring back the lost minerals, protect your skin against the sun, and even out your skin tone. However, cocoa butter on its own does not darken your skin.
3. Cocoa Butter Can Even Tone Darker Spots
While you are always putting chemicals on your skin, it needs something to withstand all that as well. That's where cocoa butter comes into the picture. It can even skin tone and protect the surface layer of your delicate skin to look nice and even. If you have dry skin, feel free to apply it to your face to diminish the appearance of dark spots. 
Also Read: Does Cocoa Butter help with Dark Spots?
4. Skin Scarring
If you are prone to acne, scrapes, or incisions there is no way you are going another day without getting your hands on high-quality cocoa butter. The nutritious properties can boost up the healing process and soften it to reduce your scarring over time. As a result, you generally have even-toned skin. 
Also Read: Best Cocoa Butter for Scars: The Small and Scary Ones!
Myths About Whether Cocoa Butter to Evens out Skin Tone
1. Prevent Stretch Marks
As cocoa butter has shown many benefits to create even-toned skin, many people consume that for eliminating stretch marks. Remember stretch marks are a lot deeper and pigmented than your regular scars.
In fact, this proves it through two separate studies where one with a group of 300 women and the other with 175 women tried and tested 100% natural cocoa butter and saw no difference in the appearance of their stretch marks. Sure, it can help heal acne scars, wounds, and skin cancer, but it isn't as effective to treat something as deep as stretch marks. 
Also Read: Palmers Cocoa Butter For Stretch Marks Review [Top 10 Picks]
2. Act as a Sunscreen to Prevent Stretch Marks
Considering how you can find cocoa butter in most of the sunscreens, many people fall into the myth of thinking that cocoa can act as a sunscreen to protect you against any sort of damage from the UV rays. However, the thick consistency can act as a barrier to protect your skin but it shouldn't replace your sunscreens. 
Also Read: Best Cocoa Butter Lotion for Stretch Marks
How long does it take for Cocoa Butter to even skin tone? What does Research say?
An overview of many studies done on cocoa butter indicated that the phytochemicals present in cocoa butter can increase blood flow and offer anti-cancer and anti-inflammatory properties to even out your skin tone. Here, phytochemicals are a plant's active ingredient that comes in higher content in cocoa butter than in both red wine and tea.
Therefore, you can get to see unmatched results with cocoa butter in no time.
Things to know before using cocoa butter for your face
Before you begin your process with cocoa butter, there might be a few things you must consider to reduce the bumps in the future and offer an effortless journey.
As a general rule of thumb, coca butter works by using its fatty acids and massaging properties to make a difference. This might take years to yield results. Here are some of the things you can do to speed up the process.
Massage the cocoa butter vertically and horizontally across the skin or hyperpigmentation—massage in a circular motion around the scar.
For best results, add it to your daily routine 2 to 3 times a day for 10 minutes. Make sure your skin is properly cleansed and exfoliated to let the skin absorb its nutrients better.
Another thing worth mentioning is that although cocoa butter is safe to use, you may need to avoid it if you are allergic to the cocoa plant. It has a thick consistency; it can also clog your pores to cause breakouts. Therefore, it's best to avoid cocoa butter on your face if you are prone to acne or apply it cautiously to get the best results. 
Also Read: Is Cocoa Butter Bad for Your Face: What I Wish I Knew!
Frequently Asked Questions (FAQs)
Does Cocoa Butter Help Uneven Skin Tone?
Cocoa butter can be your best bet to naturally even tone your skin, especially on your face where dark spots are more visible. As it replenishes your skin's lost moisture and creates beautiful, radiant skin without making you look too greasy after a long, humid evening. 
Does Cocoa Butter Brighten the Skin?
Yes and no. Sure, cocoa butter can use its healing and moisturizing power to smoothen and even tone your skin but if lightning is what you're looking for, then this may not be the right option for you. On these types of skins. It may do wonders at first but will likely be less effective for brightening up the skin. 
Does Cocoa Butter Lighten Scars?
Unfortunately, cocoa butter will not get rid of deep acne scars. However, over time with frequent use, it can reduce the appearance of the dark spot and make your skin nice and supple for long periods of time.
Is Cocoa Butter Good for Fair Skin?
Of course! Fair skin is also prime to dark or red spots from all the scarring or insect bites. It's best to use cocoa butter with other effective ingredients like yogurt or rose water to freshen up your face and give a nice and smooth feel for smooth skins. 
Does Vaseline Cocoa Glow Darken Skin?
Yes, the Vaseline Cocoa glow takes around 1-2 minutes to get absorbed by the skin and moves a slightly darker tint for that ever-needed sunkissed dark/tanned skin. 
It your turn…
To wrap it up, you can surely count on cocoa butter to even out your skin tone within one month, however it isn't as easy as it looks. You may need to consider your skin type, how frequently you use it, and the problems you want it to fix.
To make the most of your cocoa butter, try to incorporate other healthy habits like drinking enough water, quit smoking using sunscreen, and having a healthy diet can make a tremendous difference in amping up the overall appearance of your skin.